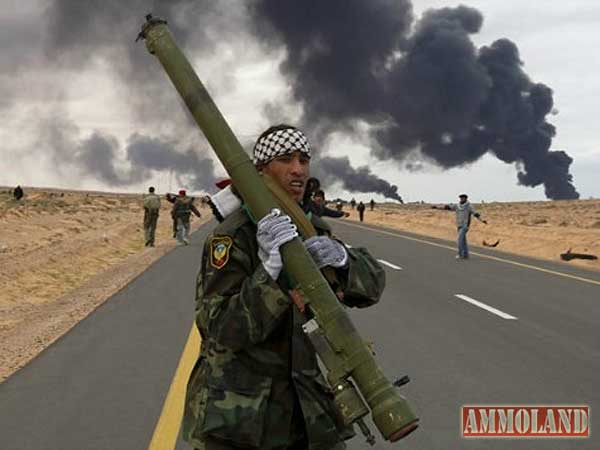 Washington DC – -(Ammoland.com)- On August 12th 2013, Joe DiGenova, attorney for one of the Benghazi whistleblowers, told Washington D.C.'s WMAL that one of the reasons people have remained tight-lipped about Benghazi is because 400 U.S. missiles were "diverted to Libya" and ended up being stolen and falling into "the hands of some very ugly people."
DiGenova represents Benghazi whistleblower Mark Thompson. He told WMAL that he "does not know whether [the missiles] were at the annex, but it is clear the annex was somehow involved in the distribution of those missiles."
He claimed his information "comes from a former intelligence official who stayed in constant contact with people in the special ops and intelligence community." He said the biggest concern right now is finding those missiles before they can be put to use. "They are worried, specifically according to these sources, about an attempt to shoot down an airliner," he claimed.
On August 4, Breitbart News covered a report in The Telegraph that said 35 CIA operatives were working in Benghazi when the attack against the consulate took place. The Telegraph claimed these operatives were allegedly in an "annex near the consulate [working] on a project to supply missiles from Libyan armories to Syrian Rebels."
Months earlier, following then-Secretary of Defense Leon Panetta's February 7 testimony on Capitol Hill about the Benghazi attacks, Senator Rand Paul (R-KY) suggested that one of the causes behind the terrorist attack "may have been that there was a gun running operation going on in Benghazi, leaving Libya and going to Turkey and [distributing] arms to the [Syrian] rebels."
Follow AWR Hawkins on Twitter @AWRHawkins.
About:
AWR Hawkins writes for all the BIG sites, for Pajamas Media, for RedCounty.com, for Townhall.com and now AmmoLand Shooting Sports News.
His southern drawl is frequently heard discussing his take on current events on radio shows like America's Morning News, the G. Gordon Liddy Show, the Ken Pittman Show, and the NRA's Cam & Company, among others. He was a Visiting Fellow at the Russell Kirk Center for Cultural Renewal (summer 2010), and he holds a PhD in military history from Texas Tech University.
If you have questions or comments, email him at [email protected] You can find him on facebook at www.facebook.com/awr.hawkins.