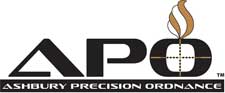 Ruckersville, VA. –(Ammoland.com)- Ashbury Precision Ordnance Mfg (APO) continues to expand its unique line of Asymmetric Warrior Precision Tactical Rifle's with the bolt action ASW223 chambered in .223 Wylde.
The ASW223 follows the spiral technology path of the Asymmetric Warrior line of precision rifles, exclusively using the patented SABER-FORSST modular rifle chassis system.  Ashbury's selection of the Wylde chamber in the ASW223, allows shooters to use either commercial .223 Remington or military specification 5.56mm NATO ammunition with high levels of accuracy.
The ASW223 is designed to produce optimum accuracy with heavy, longer loaded match bullets up 80 grains for precision shooting out to 600yds with an optional sound suppressor.  Using proprietary barrel engineering software, APO designed a fluted Pinnacle Series barrel in 416R stainless steel for this potent mid-range precision rifle.  The 1-in-8″ twist barrel is chambered and finished with a target crown and muzzle brake suppressor adapter to a straightness of less than <0.0002″ or better!
The signature precision fire control mechanism featured on all Asymmetric Warrior rifles is the patented Huber Concepts Staged Break tactical two-stage trigger, set to a crisp 3.5lbs.  The core of this Ashbury tactical rifle platform is a precision machined Surgeon or APO SX bolt action receiver with a 10 round detachable box magazine.  Asymmetric Warrior rifles are hand crafted by a team of specially trained former USMC 2112 Precision Rifle Technicians, engineers and experienced machinists to exacting standards and precision tolerances that deliver consistent sub ½ MOA performance with RUAG's 69gr Swiss P Target and other premium grade match ammunitions.
The ASW223 comes in a standard right hand configuration, with a left-hand model available in spring 2014!  It features a unitized monolithic 20 MOA 12 o'clock top rail with plenty of room for a co-aligned rifle scope, clip on night vision or thermal imaging devices.  The SABER's chassis monolithic rail provides unparalleled rigidity for long range accuracy.  The Quattro carbon fiber series forend is ergonomically shaped with a heat/mirage reducing design and "co-bore aligned" 3 and 6 o'clock accessory rail attachment points, variable grip angles, adjustable hand-grip-to-trigger distance, and a comfortable Ergo hand grip.
The ASW223 modular chassis further incorporates a folding Push Button Adjustable Hybrid (PBA-H) shoulder stock with ergonomic adjustments for cheek piece height, length of pull, and Limbsaver recoil pad drop.  A wide range of interchangeable SABER accessories includes a folding field Monopod, Picatinny accessory rails, Anypoint Bipod/Tripod Mount, Long Range Accuracy bipods, Field Firing Solutions ballistic software, TACT3 Tactical Tripod Systems and more are available.
The basic ASW223 rifle weighs in at a lightweight 11.5lbs with an overall length of 41 inches extended, and a compact folded length of 31 inches.  There are flush cup sling swivel attachment points along the entire length of the rifle which can be ordered in corrosion and chemical resistant Cerakote black, olive drab green, flat dark earth and Nordic gray.
For more information about Ashbury Precision Ordnance Mfg., Asymmetric Warrior precision tactical rifles, SABER Modular Rifle Chassis systems and our range of precision long range shooting equipment, please visit the APO Welcome section of our website.
About Ashbury…
Ashbury International Group, Inc. is a central Virginia USA based company, having more than 18 years of international experience as a prime contractor to government agencies, military, and special operations forces as well as manufacturer of commercial shooting sports equipment.  The company provides logistics, engineering, training, ordnance manufacturing, systems integration and emergency preparedness products and services.
Ashbury Precision Ordnance Mfg.  (APO), a division of the Ashbury International Group Inc. is a BATFE licensed 07/11/SOT firearms manufacturer.  APO manufactures the patented SABER-FORSST modular rifle chassis system for small, medium and large caliber bolt action factory and custom rifles.  APO manufactures custom Asymmetric Warrior® (ASW) Precision Tactical Rifles, TCR-Tactical Competition Rifles, and SABER Enhanced Factory Rifles (S.E.F.R). Calibers include .223 Rem, .260 Rem, 6.5 Creedmoor, .308Win, .300WM, .338NM, .338LM, .375CT and .50 BMG.
Additionally, APO manufactures high quality rugged electro-optical weapon mounts and TACT3 tactical field tripods. APO also distributes a selection of long range shooting accessories to include Field Firing Solutions (FFS) ballistic software, Long Range Accuracy Bipods, Sniper's Field Tool Kits as well as Vectronix laser range finders, thermal imagers and night vision devices.
The Rapid Product Development Center (RPDC) provides engineering design and prototyping services. The engineering services group is Solidworks® CAD based with Cosmos® FEA and FeatureCam® CAD/CAM machine programming software, 3D Printer-Fuse Deposition Modeling (FDM) capable, a modern CNC precision machining shop and an experienced, well trained staff.