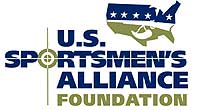 Columbus, OH –-(Ammoland.com)- Earlier this spring the California Assembly passed Bill 711, sponsored by Assembly Member Anthony Rendon (D-Lakewood), which would ban the use of all traditional lead ammunition for hunting throughout the state.
In June, the bill was placed in the Senate Appropriations Committee's suspense file after a strong outpouring of opposition from sportsmen.
Further action is needed from sportsmen to keep the bill from being voted on by the Committee!   Anti-hunting groups, including the Humane Society of the United States, are lobbying hard to pass the bill.
"California sportsmen and gun owners need to act today to stop AB 711," said Evan Heusinkveld, U.S. Sportsmen's Alliance Director of Government Affairs.  "Anti-hunting groups know that this bill will limit the availability of ammo and drive up the already rising prices, all in an effort to drive down participation of hunters and recreational shooters."
Although the bill is aimed at hunting, a complete ban on the use of traditional lead ammunition could easily be extended to all shooting sports.
Take Action! – California sportsmen should call members of the Senate Appropriations committee TODAY and tell them to vote NO on Assembly Bill 711.  Members of the Committee can be reached at:
Sen. Kevin de Leon (Chair)
(916) 651-4022
Sen. Mimi Walters (Vice-Chair)
(916) 651-4037
Sen. Ted Gaines
(916) 651-4001
Sen. Jerry Hill
(916) 651-4013
Sen. Ricardo Lara
(916) 651-4033
Sen. Alex Padilla
(916) 651-4020
Sen. Darrell Steinberg
(916) 651-4006
About:The U.S. Sportsmen's Alliance is a national association of sportsmen and sportsmen's organizations that protects the rights of hunters, anglers and trappers in the courts, legislatures, at the ballot, in Congress and through public education programs. Visit www.ussportsmen.org.