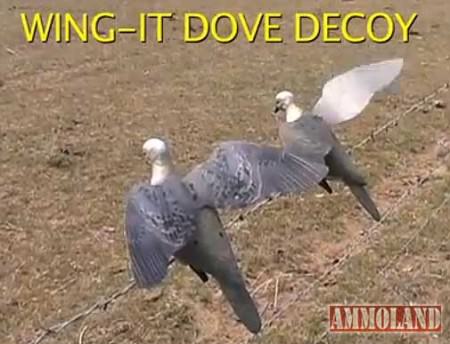 Bainbridge GA – -(Ammoland.com)- Hunter's Edge is excited to introduce the new Wing-It Dove Decoy and Dove Feeding Frenzy.
These two thrilling products match a wild dove in its natural habitat and will help you get a closer shot this upcoming season.
The Wing-It Decoy has a lifelike body that is hand-painted with seven different colors to give it a realistic dove look. As with any decoy, movement is key.
That's why the Wing-It decoy is equipped with patent-pending photographic wings that flap even in the slightest breeze. Along with high-quality metal clips for trees and fences, the Wing-It decoy comes with a 24-inch collapsible stake, giving you the opportunity to position the decoy anywhere you want. Check out this YouTube video of the Wing-It Decoy for a demonstration and more info.
To complete your decoy setup, the new Dove Feeding Frenzy is a must for simulating doves feeding on the ground. This product features a motorized base that rotates three Wing-It decoys in a circular jumping motion.
The Wing-It Decoys' wing and body movement mimic typical dove behavior, such as the females trying to feed, while the males chase and fight one another.
This movement will surely attract dove to your location. Check out this YouTube video of the Dove Feeding Frenzy for a demonstration and more information.
Understanding that movement is the key to decoy success, Hunter's Edge has released these two new products to help you enjoy your day in the dove field all the more. Look for the new Wing-It Decoy and Dove Feeding Frenzy at an outdoor retailer near you.
Features at a glance:
Wing-It Dove Decoy https://tinyurl.com/lnj2gqt
Dove Feeding Frenzy https://tinyurl.com/leqv84w
For more information, check out www.hunters-edge.com .