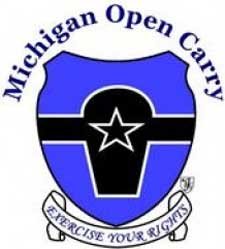 Michigan – Michigan Open Carry will be hosting our first ever 2nd Amendment camp outing over the Labor Day holiday weekend at The Trails Camp Ground in Frederic Michigan.
This is a chance to camp with like minded people who love the second amendment and the freedoms it affords.
What: Camp outing
When: Aug 30th – Sept 2nd 2013
Where: The Trails Camp Ground in Frederic Michigan
Cost: $20/night (Includes on-site water and electric).  Tent/primitive sites also available.
Hosts: Reg Carr and Cindy Walker
Normally, we only notify people of events in their area.  But we also know that many people all the way down in Metro-Detroit, Kalamazoo, and all around the State LOVE to camp in Northern Michigan so we felt it was important to notify you no matter where you live.
Nice, quiet campground includes:
Clean restrooms/showers
Play ground for the kids
Boarders state land for those that want to shoot
Amenities nearby include:
river within a mile from camp
canoe or kayak – 4 canoe liveries in, or close to Grayling.
Tubing on the Au Sable river. Reservations are encouraged.
Still putting together plans for an OC Seminar sometime during the weekend.
Safe and Lawful Open Carry is encouraged, but not necessary!
No:
FIREWORKS
DISCHARGE OF WEAPONS INSIDE THE PARK!!!!
You can call the camp @ 989-348-8692 to make reservations or contact me via email – [email protected]
PLEASE REMEMBER, ALCOHOL AND GUNS DON'T MIX!!!!!!!!!
You do not have to be a dues paying member of MOC to attend.
Reg Carr
Northern Michigan Coordinator
Michigan Open Carry, Inc.
[email protected]
Michigan Open Carry, Inc is a Not-For-Profit organization that depends on our dues paying members to continue our operation.  We are an all-volunteer organization.  As such, no one is paid a salary and very few of the personal expenses of our officers are reimbursed.  Won't you consider joining us or renewing as a dues paying member today?  If you need technical help with the process, please email [email protected]