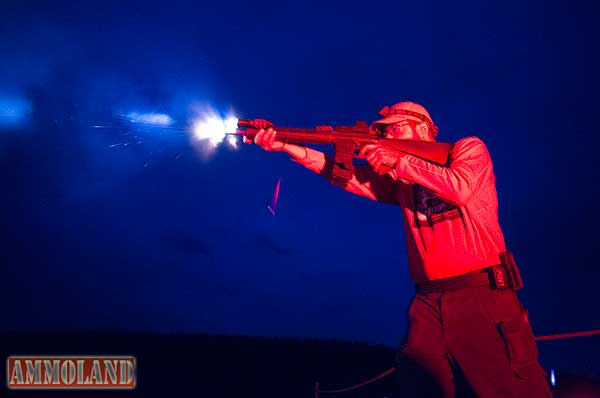 Wilsonville, OR – -(Ammoland.com)- Crimson Trace, the leading brand of laser sights and tactical lighting products for firearms, will again host the world's only nighttime 3-Gun competition—the 2nd Annual Midnight 3-Gun Invitational (M3GI).
The unique night shooting competition will be held at the Central Oregon Shooting Sports Association range near Bend, Oregon beginning on August 14th. The eyes of the shooting industry will be focused on the competition—and the gear they'll be using.
"With the support of some of the best brands and sponsors in the industry, and the highest caliber shooters in the country, I'm confident the 2013 Midnight 3-Gun Invitational will be a challenge for all of the competitors," stated Kent Thomas, Crimson Trace Marketing Director. "This event will have everyone buzzing for months to come and wanting more."
The shooting competition will be the focus of more than three dozen media members, TV crews, manufacturers, sponsors and more than 150 competitors who will use various handguns, rifles and shotguns to work their way through a diverse maze of challenges. Shooting in darkness (the targets go up when the sun goes down) adds to the challenges—and thrills. The use of laser sights, tactical lighting and night vision gear will help the competitors accurately engage the paper and steel targets in the darkness under safe and controlled conditions.
This event is being filmed by crews from: The National Shooting Sports Foundation, NRATV, Gun Talk TV, the Outdoor Channel, Rocky Mountain TV, Shooting USA, North American Hunter and others. Writers from numerous leading national and regional publications will also cover and report on the competition and Crimson Trace products.
The list of M3GI sponsors includes: The National Shooting Sports Foundation, Nosler, Danner/LaCrosse, Primary Weapons Systems, Colt Competition, Optics Planet, Leatherman, and Freedom Munitions. Other sponsors are: Leupold & Stevens, FLIR, Warne Scope Mounts, Rubber City Armory, GemTech, FNH, Brownell's, Daniel Defense, Remington, MGM Targets, and Otis Technology.
With the support from sponsors and Crimson Trace, the total cash purse is $6,000. If the winning shooter utilizes Crimson Trace lasers and/or lighting systems on all firearms used during the competition, the cash prize becomes $10,000.
ABOUT CRIMSON TRACE:
Crimson Trace—based in Wilsonville, Oregon—is the acknowledged industry leader for laser sighting systems and tactical lights for firearms. The company produces award-winning innovations, including: Lasergrips and Laserguard with red and green lasers, as well as Lightguard –all with Instinctive Activation . Additionally, the company's product line includes the best-in-class Defender Series and Rail Master platforms – all of which are proudly designed, engineered and manufactured in the USA. Crimson Trace sets the industry standard in comprehensive customer service that is available 24/7 at 800-442-2406.