By: Roy Grimes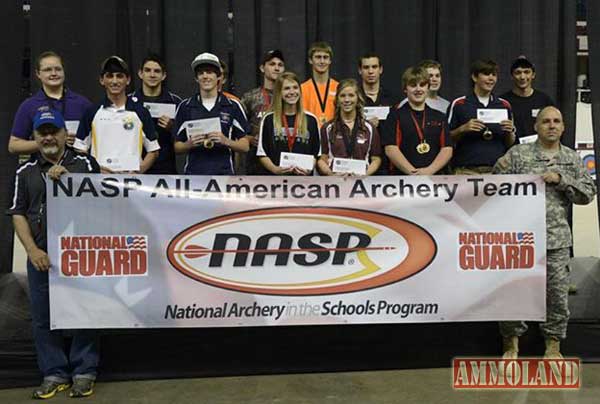 USA –-(Ammoland.com)- On Sunday, July 21st 2013 forty-seven archers, parents, siblings, coaches, and NASP officials gathered at the Atlanta and Dulles international airports.
Our destination was Johannesburg, South Africa.
For many this would be their first time on an airplane and for almost everyone, their first trip beyond U.S. shores.
Needless to say, a 16-hour flight is hardly routine or recommended for one's first journey by air!
The primary purpose of our trip was to join all-star National Archery in the Schools Program (NASP) archery teams from Namibia and South Africa in a celebration of competition among the world's best NASP student archers. These all-star boys and girls were named at their respective national NASP archery tournaments in May.
A secondary focus of this adventure was to provide opportunity for the young archers to serve others. Specifically, urban and rural African youth were invited to receive introductory archery instruction from the all-stars.
All but one of the archers made their connection from their home through Atlanta or Dulles to Johannesburg. The "one" was Jake MacNab and his mother Tracy from Cadiz, KY. Storms delayed them at the Nashville airport and Delta re-routed them through Amsterdam, Netherlands and Paris, France to join our group a few hours late in South Africa. Unfortunately, Jake's bow remained in Paris but Delta delivered it to young Jake a couple days later, in time for the competition.
On the 2nd day in South Africa the 16 All-Americans and nearly 50 South African archers met at a local school in Rustenberg, SA. There the group spent several hours demonstrating NASP safety protocols and shooting processes to nearly 100 local youth. After the demonstrations and safety instructions the all-stars provided one-on- one coaching to the Rustenberg students. It was heartwarming to see communication and cultural barriers swept aside as new skills were transferred from champion archer to newbie archer.
Using NASP?s "kid-friendly" teaching style it was amazing to see just how quickly the budding archers mastered skills necessary to send arrows streaking towards the center of bulls-eye targets. All-Star Levi Staats from West Virginia was eager to draft a couple of the young Rustenberg students for the American all-star team! The first service event was concluded by a rousing and animated presentation by a local school?s drum and dance troupe.
Some of the NASP parents joining the trip are also teachers. Alabama?s, Molly Wilson and Roy Richardson were granted permission by the Rustenberg Headmaster to sit in on an elementary class. Molly and Roy were very impressed with the classroom management and teaching styles of the local teachers. The classrooms were very small and contained 40 students. However, the students were highly engaged and exhibited unusual discipline and enthusiasm for learning. Contact information was exchanged among the teachers so their respective classes could interact via internet-based forms of communication.
After adjourning the Rustenberg event the all-stars and their families boarded a charter bus for a 5-hour trip north towards Mokopane, South Africa and the nearby Shikwaru Lodge. We arrived at Shikwaru, a rural but modern wildlife tourism facility, well after dark that day. After dealing with some cattle guards and electronic security gates the group received its lodging assignments and scattered to spend the night in chalets and luxury thatch-roofed tents.
The next day the all-stars repeated safety and shooting demonstrations for another 100+ rural youth from several area schools. These students ranged from 10-18 years old. Like the Rustenberg students, these young people found archery to be exciting and something at which they could enjoy success. They appreciated being shown the "Eleven Steps to Archery Success" by the best of 2.3 million archers who participated in NASP this past school-year.
The next day at Shikwaru was a break from archery. The students and their families enjoyed tours by open-air safari trucks on a local "Big Five Wildlife Ranch". Here the group filled many dozens of digital camera cards as they encountered wild giraffe, rhinoceros, wildebeest, hippopotamus, a possum-playing jackal, and many other of Africa?s animals during a several hour truck safari.
On Friday morning the long-awaited archery competition between the all-star teams began. Opening ceremonies included presentations by a local musician and celebrity, Dozi who sang national anthems in English, Afrikann, and Zulu. After the anthems Dozi entertained the archers and families with renditions of local music and good ole American Rock and Roll. It seemed parents such as Holly and Brian Peyton from Lawrenceburg, Kentucky and were more familiar with the "oldie" R&R and tunes than were their student archers!
The archery competition began with every all-star competing in a standard, 30-arrow NASP flight from 10 and 15 meters. This was a "ranking" flight after which the top 12 scores of each teams archers were summed. Standings after the ranking flight resulted in the U.S. All-Star Team being awarded 15 points for scoring 3,383 points. South Africa?s all-star team shot 3,173 points and earned 10 points for runner-up.
Next each team of 16-24 archers was arranged in groups of 3 boys and 1 girl based upon individual rankings. The top 3 boys and top girl archer became South Africa Team 1, USA 1, and Namibia 1. The next ranked became their country?s team 2nd, 3rd, 4th, 5th, and 6th match-play teams. Two additional South Africa teams of Senior and Junior archers competed in the ranking flight which resulted in one, 4-person team representing this group of nearly 35 archers. In total the ranking flight resulted in 4, 4- archer teams each for Namibia, 4 for the United States, and 7 for South Africa. Members of each country?s #1
Team: USA 1: Josh Ohlert, Ryan Long, Cameron Peyton, & Riley Mabe SA 1: SJ Nel, Dihan Cloete, Reiner Visser, & Tarien Basson NB 1: Nicolay Jaeger, Bendre Bothma, Izann Sinclair, & Jacobus Bergh
The fifteen teams were then seeded based upon the sum of their four archers? ranking scores and placed in a double elimination bracket for match play. During match play each country?s teams would go head to head again shooting 30 arrows at 10 and 15 meters (15 arrows at each distance). When a team won they advanced in the "winners" bracket and earned 5 points (Namibia and the US) or 3.3 points (South Africa had more teams thus fewer points could be won). These points were accumulated over two days of match play to determine overall and runner-up team champions. If a team lost during match play they were sent to the "Second Chance" bracket (NASP has no losers bracket). If a team lost a second match they were eliminated from the competition.
Eventually, groups of 4 from the same country would compete in the match play.
Complicating the action was the condition of 7 young archers (and 3 parents) that contracted a vile, 24-hour stomach virus. Some of these archers were so ill they could not compete in the matches and were awarded a score generated by averaging those of their three healthy team mates. In a few cases the archers were able to compete but only if their parents and coaches held umbrellas over their heads while they shot. One of these ill archers, Ryan Long shot a 299 which is one point shy of a perfect 300. That same flight, his teammate on USA 1, Josh Ohlert also shot a 299. This broke the NASP event record score of 298 which had been held by 5 archers before this event.
Not surprisingly, Ryan and Josh ultimately earned Overall and Runner-Up Champion male archer honors for the entire event.
The first teams to exit the competition were those from Namibia. Namibia is relatively new to NASP and didn?t have near as much tournament experience as the US and SA archers. Namibian archers represented themselves, their parents, coaches, and country with competence, grace, and terrific sportsmanship! Interestingly, the Junior SA Team that had only 1, 4-archer team in the competition was able to win 2 matches and actually eliminate older age students from the brackets.
The final four teams in the competition on Saturday afternoon were USA 1, 2, 3, and SA1. By 4:00PM on Saturday there were only two, 4-person teams remaining in the competition. USA 1 had remained undefeated during match play and had to shoot against their fellow all-stars on USA 2 which had successfully moved through the second chance bracket. Both of these teams had posted 4-person scores throughout match play that could have beaten one another so this final pairing was very much a rubber match. However, after 45 minutes and 240 scores arrows, USA 1 had prevailed and remained undefeated among all 15 of the bracket teams.
Points earned during the ranking flight and match play resulted in USA with 95 points and South Africa with 46. To determine champion and runner-up male and female archers the first three scores posted by each archer were summed. Winning overall champion for the guys was Richmond, Kentucky?s Ryan Long with 889 of a possible 900 points. Henderson, Kentucky?s Riley Mabe was the overall female champ with 872 of 900 points. Runner-up honors went to Josh Ohlert (884/900) and Tymbrie Snobl (869/900), both from Iowa.
In a show of international unity the competition ended with USA 1, SA 1, and Namibia 1 teams coming to the shooting line. Each archer launched one arrow into the center the 80 centimeter target. They started the contest together and together they ended! Targets used in the tournament were provided by Field Logic and arrows by Easton Technical Products. Every archer also used the same bow, the NASP Genesis produced by Mathews Archery.
An awards ceremony was hosted by Shikwaru Lodge that evening with Mathews Bows of choice going to the overall individual boy and girl. Teams won a trophy, plaques, and medals for each of their archers.
Before heading to the airports and return to the United States, the American All-Stars and their families were treated to another wildlife photo safari. This safari culminated with each of the members being able to "walk with the lions". Large enclosures containing eight lion clubs ranging from 1-2 years old (75-200 pounds) were opened to the American contingent. Under very tightly controlled and supervised conditions, the archers and family members were permitted to get close and personal to the lions.
Some archers discovered that about 3 licks from a lion?s abrasive tongue can draw blood! Those who discovered this wore the mild abrasion as a badge of honor! Throughout this African adventure parents and archers alike commented on the fun and value of experiences and lessons that had nothing to do with archery. The students readily related and shared fun and information with their new international friends.
Some learned a few words and phrases in other languages. Many exchanged e-mail and text message information so they could remain in contact when they returned to their respective homes.
Mrs. Aimee Bartenschlag, said her daughter April, "Really bonded with her team and was sad to leave and already missed them. She and her new friends have been in contact since returning via twitter, e-mail, facebook, and instagram." It was noted at the conclusion of the awards ceremony that these young people are now equipped to counter negative statements they might hear about one another?s people, culture, and countries. Stephen Williams, archer Tyler?s father offered, "I hope the kids walked away from this event knowing that laughter and tears in any language or culture sounds the same." The archers lamented, "That more such interactions between people of different countries should take place to make the world a more tolerant and safe place."
For seniors Ryan Long, Josh Ohlert, Jericho Vannoy, and Nathaniel Cook this is their last year competing in NASP. They indicated they would like to become NASP instructors and also serve as lane officials at future NASP state, national, and world tournaments to stay connected to the cause.
Every family related how their community, companies, and family members chipped in to make this trip financially affordable for them.
NASPs goal of changing lives one arrow at a time was realized once again as every archer and parent proclaimed the event to be an experience of a lifetime.
These are the 2013 NASP All-American All Stars:
Team Manager: Rob Jellison, 7th Grade Teacher & NASP Coach — Hartland, MI
Tymbrie Snobl – Iowa
Jericho Vannoy – Kentucky
Ryan Long – Kentucky
Josh Ohlert – Iowa
Miles Wilson – Alabama
Tyler Williams – Alabama
Clay Stevens – Kentucky
Riley Mabe – Kentucky
Maggie Melton – Kentucky
Jake MacNab – Kentucky
Cameron Peyton – Kentucky
Nathaniel Cook – Alaska
Jared Cook – Alaska
Levi Staats – West Virginia
Chris Bee – Michigan
April Bartenschlag – Ohio