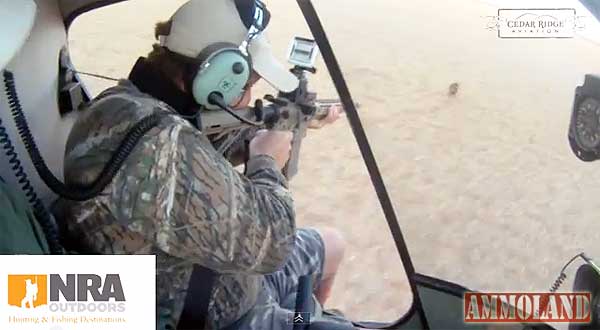 FAIRFAX, Va. –-(Ammoland.com)-  We have had more request to put this hunt together more than any other hunt we offer and it is finally here.
The Texas Helicopter Hog Hunt has to be one of the most adrenaline pumping, sitting on the edge of your seat (literally) hunts out there.
This is just a quick weekend hunt but one I am sure we will all not soon forget.  This trip will be limited to the first 12 members that sign up, so they will not last long.  We look forward to seeing everyone there, here are the details.
We know this is why you're here. This is the main event. With an unparalleled amount of experience and familiarity with the area we can truly offer the most intense and action-packed aerial adventure out there. Statistics say that 70% of feral hogs must be culled in order to stabilize the population.   Even though we have taken nearly 7,000 hogs in the last three years (!), more must be done. 70%  harvested of the state's 2 million hog population? You do the math. (answer :140,000)
Now it's your turn to book a seat helping us rid the hard working farmers and ranchers of the Lone Star State of this overwhelming vermin.
We offer you a TRUE outdoor getaway by providing not only the experience of a lifetime but also  lodging at  our full service hunting lodge. There you are able to add many other exciting activities to your getaway, including native game hunts, giving you  and/or your clients/friends/family a truly memorable adventure! Most of the near 500,000 acres that we  have access to is within 10 minutes flight of the helipads..which are right in front of the lodge!!!
The Aircraft
We choose Robinson helicopters for several reasons. With multiple light helicopters to choose from, the R22 has the lowest fuel burn rate at around 9 gallons per hour, and the R44 provides a comfortable experience for larger shooters as well as giving an opportunity for individuals to ride along. It's engineers designed the helicopters around the philosophy of light, simple and affordable. The R22 is the  optimum choice for Cedar Ridge Aviation due to it's incredible maneuverability even  at higher speeds, as well as inexpensive operating costs and an unparalleled safety record! With Robinson being the most produced helicopter in the world, it was an easy  choice due to it's proven success in all aspects of the helicopter community and the  readily available parts and support world wide.
WHERE: Just North of Abilene Texas (We will provide directions at time of booking)
WHEN: Arrive Friday February 21st mid afternoon, first groups will go up that day. Depart Sunday February 23rd
COST: $2300 per shooter (Stand hunting can be added for $200 per sitting for when you are not flying)
INCLUDED:
Two hours of helicopter time
Firearms and Ammo
Meals and Lodging
NOT INCLUDED:
5 Day License (#157 $48)
Adult Beverages
Gratuities
Read more on the Texas Helicopter Hog Hunt
Call NRA Outdoors 918 258 7817 or email [email protected]
For more information, please visit NRAOutdoors.com, or visit the NRA Outdoors Facebook page.