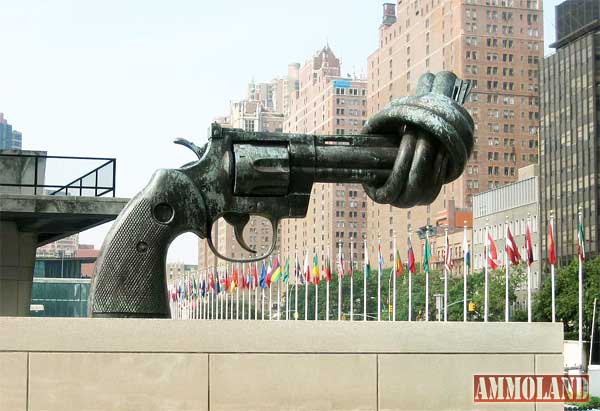 BELLEVUE, WA –-(Ammoland.com)- I write to you today with the upmost concern. Congress is out of Washington on their summer vacation that will last thru the month of August.
This is the perfect time for Obama to pursue his anti-gun agenda.
Jay Carney assured the public that Obama will sign the UN Arms Trade Treaty "before the end of August…We believe it's in the interest of the United States."
Obama has desperately tried to push for gun control at the city, state, and federal level. Americans have stood up for their Second Amendment rights and defeated his efforts thus far. Now that Congress is not present in Washington, Obama is trying to seize this opportunity to push for GLOBAL gun control.
Since Obama's efforts toward nationwide gun control failed, he is pushing for global gun control to violate our Second Amendment rights. This international gun treaty throws up many red flags. It does not explain which countries must comply with the regulations; instead, they empowered an international regulatory body that will deal with the compliance of every nation individually.
Once signed by Obama, the Senate would have to ratify the treaty with a 2/3rd majority vote for it to be official. This treaty is simply a way for Obama to get major gun control, registrations, and confiscations into the United States. This is a typical move for the Obama Administration to try to push their socialist agenda while no one is looking. We are going to let the American public know what they are up to so together, we can stop them.
The worst part about this international gun treaty is what we do not know. Just like ObamaCare, they will not reveal the details of the treaty until it is signed into law. The uncertainty begins in the discussion of small arms. Where will the regulations on our small arms start, and where will they stop?
They are even trying to include ammunition regulations in the Arms Trade Treaty!
Will the United Nations try to impose international licensing requirements, an international registry, or international regulations for the trade, sale, importation, and private ownership of our semi-automatic firearms?
The UN Arms Trade Treaty threatens us with diminished use of our firearms and ammunition, infringing on our Right to Keep and Bear Arms as AMERICANS.
U.S Representative Mike Kelly understands the importance of stopping this international gun grab:
"There is considerable cause for alarm regarding the UN's renewed efforts to forge an Arms Trade Treaty that could trample the constitutional rights of Americans… My colleagues and I stand committed to fighting this threat to our sovereignty and to standing up for the U.S.. Constitution, which we are all sworn to support and defend."
Mike Kelly is not the only representative standing up to the Obama Administration. 135 Representatives sent a letter to Obama and Kerry urging them not to sign this treaty:
"As your review of the treaty continues, we strongly encourage your administration to recognize its textual, inherent and procedural flaws, to uphold our country's constitutional protections of civilian firearms ownership, and to defend the sovereignty of the United States, and thus to decide not to sign this treaty."
President Obama has made it clear he is seeking more gun control. If he passed everything he wanted the only people left with firearms would be criminals. Gun control only affects law abiding citizens not criminals. There will always be a way for them to get weapons. Heck, in Mexico our Government gave the CRIMINALS weapons during Fast and Furious. We will not surrender to the Obama agenda, you can make a difference.
Together, we can preserve the Constitutional rights our Founding Fathers intended our people to have forever. That is why your help is needed to fund our lawsuits against unconstitutional gun laws and our important public education projects.
For more information about SAF go to www.SAF.org.
Thank you. I know I can count on you.
Sincerely yours, Alan M. Gottlieb
Founder
Second Amendment Foundation
P.S. Remember, the anti-gunners are raising tens of thousands of dollars to steal our rights from us — we need your support now to help stop them dead in their tracks!
To send a check, please mail to:
Second Amendment Foundation
James Madison Building
Dept Code 106
12500 NE 10th Place
Bellevue, WA 98005
The Second Amendment Foundation (www.SAF.org) is the nation's oldest and largest tax-exempt education, research, publishing and legal action group focusing on the Constitutional right and heritage to privately own and possess firearms. Founded in 1974, The Foundation has grown to more than 650,000 members and supporters and conducts many programs designed to better inform the public about the consequences of gun control.
Paid for by Second Amendment Foundation, a 501(c)3 non-profit organization. Contributions are tax deductible. Copyright © 2013 Second Amendment Foundation, All Rights Reserved.