Christopher A. Smithson Brings 22 years of Customer Support and Business Management Skills to Quantico Tactical.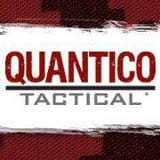 ABERDEEN, NC (August 2013) – Quantico Tactical, a leader in sourcing and supplying performance-proven apparel, equipment and firearms to law enforcement, government agencies, military and private citizens, hires Christopher Smithson as the new Commercial Sales Division Customer Service Manager.
Smithson's background in business management, and customer and technical support will serve to enhance Quantico Tactical's existing customer support program. In addition to his day-do-day supervisory duties for the commercial internet and phone sales team, Smithson will also manage and expand the corporate firearms program.  Smithson's duties include overseeing the compliance and fulfillment of firearms orders and the commemorative gun program to include custom engraving for agencies and military units and the custom engraving program for Smith & Wesson pistols.
"Chris' experience includes support, sales, marketing and business operations. It is because of his well-rounded skill set that he is the right candidate to head our customer service team and manage its growth," David Hensley, CEO of Quantico Tactical commented.

"In order for any business to be successful, customer service must be paramount, in not only the day to day operations, but in the overall long view," Chris Smithson, Quantico Tactical's new Customer Service Manager added.

"Quantico Tactical's success was built on a unique customer base that deserves the ultimate in customer care and we look forward to expanding our corporate capabilities as well as our customer service."
To become a part of the Quantico Tactical conversation, visit us on :
About Quantico Tactical:
Quantico Tactical is the premier source of performance apparel, gear, tactical medical supplies, armor and firearms for federal agencies, law enforcement, military and the serious adventure enthusiast.  Since its founding in 2001 by a retired US Marine Officer, Quantico Tactical has grown from a small shop in Quantico, Virginia to seven retail stores around the United States and a state-of-the-art headquarters, distribution center and kitting facility which service customers  world-wide.   Quantico Tactical's retail locations include; Quantico, VA; Woodbridge, VA; San Diego, CA; Oak Grove (Ft. Campbell), KY; Killeen (Ft. Hood), TX; Junction City (Ft. Riley), KS; and Lakewood (Ft. Lewis), WA.   Quantico Tactical is a Service Disabled Veteran Owned Small Business (SDVOB) providing many popular brands on the GSA Schedule. Quantico Tactical is US State Department licensed for the export of weapons, munitions and related articles. www.quanticotactical.com.