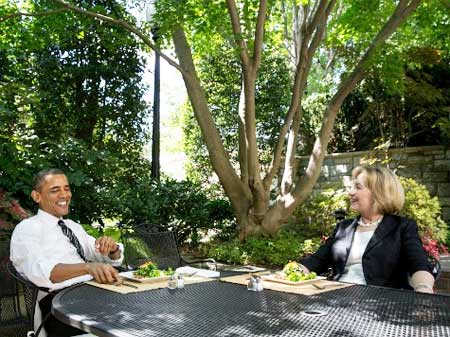 Washington DC – -(Ammoland.com)- There has always been something unsettling about the September 11th attack on the U.S. consulate in Benghazi, and a Thursday report on local CIA activity the night of the attack only adds to the unease.
CNN is reporting the CIA may have had upwards of 35 personnel in Benghazi on the night of the attack, and that "as many as seven [of these] were wounded."
An unnamed source claims these individuals are subjected to polygraph tests as frequently as once a month to monitor them for possible leaks to news outlets.
Since the assault's immediate aftermath, the Obama administration was worked diligently to ensure the details of that night remain secret—even as the family members of four murdered Americans killed search for answers.
The White House initially refused to label the onslaught as a terror attack, despite the assassination of U.S. Ambassador Christopher Stephens. Caught in the final months of the President's reelection campaign, his subordinates instead promoted the idea of spontaneous protests caused by a YouTube video.
More recently, Rep. Frank Wolf (R-VA) alleges that Benghazi survivors have been bound by non-disclosure agreements from the federal government so their knowledge of the night's events cannot be made public. Americans have learned U.S. Diplomatic Security personnel like David Ubben and others were in Benghazi during the attacks, as well. They survived but have been kept from Congress and the public since the attacks took place.
Consequent with this news is the revelation that President Obama was missing from the situation room while the attack took place. Secretary of Defense Leon Panetta was in the situation room and said after seeing Obama for a 5 PM meeting, he did not see or hear from the President again that night—though the attack lasted for hours.
Panetta said the President trusted that the Sec. of Defense and Joint Chiefs of Staff (JCOS) Chairman General Martin Dempsey were aware of what military assets were in the area around Benghazi, so he left it "up to us."
No officials from the Obama administration have taken credit for special forces to "stand down," alleged by State Department official Gregory Hicks in congressional testimony.
Follow AWR Hawkins on Twitter @AWRHawkins
About:
AWR Hawkins writes for all the BIG sites, for Pajamas Media, for RedCounty.com, for Townhall.com and now AmmoLand Shooting Sports News.
His southern drawl is frequently heard discussing his take on current events on radio shows like America's Morning News, the G. Gordon Liddy Show, the Ken Pittman Show, and the NRA's Cam & Company, among others. He was a Visiting Fellow at the Russell Kirk Center for Cultural Renewal (summer 2010), and he holds a PhD in military history from Texas Tech University.
If you have questions or comments, email him at [email protected] You can find him on facebook at www.facebook.com/awr.hawkins.