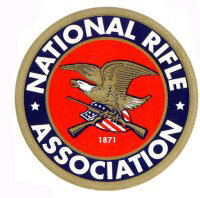 FAIRFAX, Va. –-(Ammoland.com)- An exclusive collection of rifles and pistols now have a home at the National Rifle Association Headquarters Range thanks to a special donation from Sturm, Ruger & Company, Inc.
Numbering eight guns in all, the collection will be made available when hosting special events and guests.
"Ruger is delighted to provide these firearms to the NRA Range," said Chris Killoy, Ruger's Vice President of Sales and Marketing.

"The staff at the range do a fantastic job for all of us when they introduce media personnel, politicians, and other visitors to safe and responsible firearms use."
While the range has always had plenty of ammunition, their inventory never included firearms. For events held at the range such as the Youth Education Summit and the annual Veterans Day Shoot, NRA employees would offer up their personal firearms. Thanks to Ruger, such a sacrifice is no long necessary.
"The NRA Range staff is thrilled with the donation," said NRA Headquarters Range Manager Michael Johns. "Now Ruger will be the first trigger everyone pulls at all of our events."
Firearms donated to the range include:
·         Gunsite Scout Rifle
·         10/22 Takedown Rifle
·         SR-556 E Model
·         SR1911 Pistol
·         SR9 Pistol
·         SR22 Pistol
·         GP100 Standard Revolver
·         New Model Single-Six Convertible
About the NRA Headquarters Range
The NRA Headquarters Range is a 15-position, 50-yard indoor range. Open to members and non-members alike, the range plays hosts to recreational shooting, competitions, educational programs and more. Targets, cleaning supplies and related merchandise are available for purchase. For more information, visit their website at http://nrahqrange.nra.org.
About Sturm, Ruger & Company
Founded in 1949, Sturm, Ruger & Company is one of the nation's leading manufacturers of rugged, reliable firearms for the commercial sporting market. The only full-line manufacturer of American-made firearms, Ruger offers consumers over 400 variations of more than 30 product lines. To learn more about Ruger, visit www.Ruger.com.