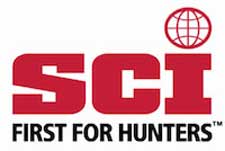 Tucson, Arizona –-(Ammoland.com)-  This Friday evening, August 23, 2013, the Board of Directors for SCI along with officers, members and special guests, including several members of the Outdoor Media, will celebrate the 25th anniversary of the International Wildlife Museum in Tucson, AZ.
The International Wildlife Museum is a collection of displays of taxidermy animals from all over the world that include wildlife-related and educational displays.   Visitors to the museum are both educated and entertained.
For more information on the InternationalWildlifeMuseum, go to http://www.thewildlifemuseum.org/ .
In addition to attending the International Wildlife Museum's Gala Event Friday evening, members of the Outdoor Media will take part in a number of seminars presented by SCI personnel on Thursday and Friday, August 22 and 23. The seminars will give the media a good background on all the work SCI does in wildlife conservation, education, humanitarian services and hunter advocacy around the world.
The SCI Board of Directors will also be meeting during their time in Tucson and one of the main topics of discussion will be plans for the 2014 SCI Hunters' Convention which will be held February 5-8, 2014 in Las Vegas, Nevada. For more information on the SCI Convention, go to http://www.showsci.org.  
About the SCI Hunters' Convention: Safari Club expects upwards of 24,000 international hunters to visit Las Vegas, Nevada, February 5-8, 2014.  The SCI Hunters' Convention representsthe largest and most successful event to raise money for advocacy to protect hunters' rights. The 2014 Hunters' Convention will be the largest in the organization's history with nearly a million square feet of exhibits and 2,500 vendors.
Becoming an SCI Member:  Joining Safari Club International is the best way to be an advocate for continuing our hunting heritage and supporting worldwide sustainable use conservation, wildlife education and humanitarian services. JOIN NOW:  http://member.scifirstforhunters.org/join/
Safari Club International – First For Hunters is the leader in protecting the freedom to hunt and in promoting wildlife conservation worldwide. SCI has approximately 200 Chapters worldwide and its members represent all 50 of the United States as well as 106 other countries. SCI's proactive leadership in a host of cooperative wildlife conservation, outdoor education and humanitarian programs, with the SCI Foundation and other conservation groups, research institutions and government agencies, empowers sportsmen to be contributing community members and participants in sound wildlife management and conservation. Visit the home page www.safariclub.org  or call 520-620-1220 for more information.