This 2013 win marks Lenseigne's back-to-back wins of this Championship.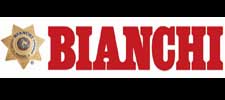 ONTARIO, CA –-(Ammoland.com)- In a nail biting finish, Bianchi Cowboy shooter Kenda Lenseigne took another championship win at the Cowboy Mounted Shooting Association (CMSA) "Scully Western US Championship" held in Las Vegas, NV July 31 – August 3 2013.
Lenseigne's performance dominated over the women in her class and every man on the field as well. Coming into the last stage of the gruelling three-day event, Lenseigne and fellow world-champion, Chad Little, were separated by less than 7/10 of a second. After Lenseigne ran first and laid down a "smoking" 17 second run, Little rose to the challenge but suffered a miss which ultimately cost him the title.
Before taking overall honors, Lenseigne, the Phoenix-based horse trainer, and her horse Justin, ran the fastest time while sporting the Bianchi Smokechaser rig in Friday night's sudden-death Eliminator.
"It was wonderful to see and hear the roar of so many friends and clients in the stands," said Lenseigne. "Justin and I are truly honored to have such a great support network, as well as some fantastic sponsors."
The event also marked a preview of the latest Bianchi Cowboy holsters and gun belts, which Lenseigne designed in conjunction with the brand's research and development department.
"I've used Bianchi gun leather to win multiple championships and set world records. These new colors add some spectacular styling to a proven design."
The new rigs are available for pre-order at kendalenseigne.com and will begin launching at the end of 2013 throughout 2014 with each available for a limited time only.
About Bianchi
Bianchi has been a leading producer of holsters and accessories for the concealment, sporting, law enforcement and military markets worldwide for more than 50 years. From premier leather products including Bianchi Cowboy, to the ruggedly durable AccuMold® and PatrolTek™ lines, Bianchi products are known for their time-proven designs, quality and longevity. Bianchi is a part of The Safariland Group family of brands. For more information, visit www.bianchi-intl.com.
About The Safariland Group
The Safariland Group is a premier global provider of trusted, innovative, high-quality law enforcement and security products for the public safety, military and outdoor recreation/personal protection markets. Offering many of the world's most recognizable names in these markets, principal brands include Safariland, ABA, Second Chance, Bianchi, Break Free and Mustang Survival. Forensics brands include Identicator and NIK. The Safariland Group's mission, Together, We Save Lives, is inherent in the lifesaving products it delivers. The Safariland Group has its headquarters in Jacksonville, FL.
The Safariland Group is a trade name of Safariland, LLC.