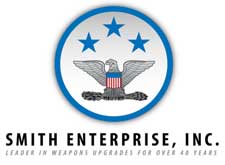 TEMPE, Ariz., –-(Ammoland.com)-  If you are in the military or other Government Agency, or have family in the service, this is important info for you.
A lot of people don't know this, but we have a contract with the Navy for the .50 Cal Vortex Flash Hider.
The NSN is 1005-01-588-9516. It is imperative that all .50 Cal Machine Guns have this on the end for user safety – it hides 95% of the flash the enemy cannot see your position.
If you want any, contact the buyer Matt Summers at [email protected] with your requisition amount.
He will advise you how to get them on order or you can just order the NSN. Tests have shown that our Vortex reduces the flash by 95%. Our Vortex beat three other company's flash hiders for this contract.  The Vortex was superior because it passed:
The drop test
The removal test
The flash hider test
The salt fog test
And many other rigorous tests the Navy did to it
Don't let your .50 Cal be naked without our Vortex.
Combat Proven!
Sincerely,
Ron Smith
President
Smith Enterprise, Inc.