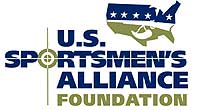 Columbus, OH –-(Ammoland.com)- Sunshine and 70 degree weather conditions proved for an enjoyable day on the sporting clays course at the 2013 Ron Blosser Memorial Trailblazer Charity Shoot held August 17, 2013.
Held at Hidden Haven Shooting Preserve & Sporting Clays, over 100 shooters gathered to support not only the Trailblazer Adventure Program but also the late Ron Blosser who owned the facility. Blosser believed that youth shooters held the key to protecting the future of our outdoor heritage and was an advocate for the Trailblazer Adventure Program and its success.
Over 45 organizations donated to the event, with all proceeds benefitting the U.S. Sportsmen's Alliance Foundation's Trailblazer Adventure Program. Trailblazer is an outdoor youth education program that strives to introduce youth and their families to outdoor activities including target shooting, fishing, archery and different conservation methods through hands-on experiences.
With events held coast to coast, Trailblazer has introduced more than 1.7 million youth and their families to an outdoor lifestyle and continues to grow each year. It is the largest program of its kind.
Top-tier sponsors for this year's charity shoot included: Anheuser-Busch, 21 Consulting, BNY Mellon Wealth, Chesapeake Energy, Columbia Gas, Home Waters, Jess Howard Electric, John Gerlach & Co., Nemacolin Woodlands Resort, Performance Training Solutions, Select Management Resources, Shumaker & Loop, Steel Case, US Bank, and Vorisek Financial.
Bringing home the first place prize of top sporting clays team was Jess Howard Electric with a combined score of 84.8. Rounding out second place was team Steel Case with a score of 71.2.
Committee members and tremendous sportsmen and women leaders for the Trailblazer Charity Shoot included:
Jeff and Jody Milligan, Hidden Haven

Chandon Simonis, BNY Mellon

Rob Peirce, Oswald Companies

Tim Norris, First Columbus Bank

Chip Elliott, BNY Mellon, Ret.

Jim Samuel, Capitol Integrity Group

Chris Dalambakis, Steelcase

Dan Creekmur, Columbia Gas

Bill Walt, Jess Howard Electric

Cliff Miller, Consolidated Electrical Dist.
Anyone wanting to host a fundraiser for the Trailblazer Adventure Program is urged to call Doug Jeanneret at 614-888-4868. As the popular Trailblazer Adventure Program expands into more states and regions, this funding could be critical in helping more youth learn about the outdoors in exciting hands-on experiences.
For more information regarding the Trailblazer Adventure Program visit www.trailblazeradventure.org or email [email protected]
About:The U.S. Sportsmen's Alliance is a national association of sportsmen and sportsmen's organizations that protects the rights of hunters, anglers and trappers in the courts, legislatures, at the ballot, in Congress and through public education programs. Visit www.ussportsmen.org.