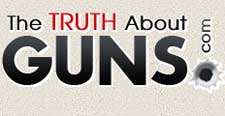 The Volquartsen Snake-Fluted Silhouette Stock .22 Rifle has landed! I had the rifle shipped to a local tactical supply, and it didn't even make it out of the shop before the guys who work there and I tore into it like it was Christmas morning.
Volquartsen sent the rifle cradled in a light but substantial black shipping case complete with chrome latches.
Not that anyone dwelled on that detail for very long. Popping the case open, it was immediately obvious that the photos on their web site just don't do it justice . . .
"This is laminated wood?!", I asked. No one could believe it. I've never been a big fan of laminate, but this Silhouette stock is something entirely different.
I don't even want to call it laminate. The workmanship is expertly done and the finish is lovingly polished.
Another feature, the Zeiss black and silver 4.5 x 14 scope, beautifully compliments the exotic snake-fluted barrel tipped with their forward blow compensator and accentuates the silver trigger.
All in all, this is one good looking gun!
When I first held it in my arms, I noted its balance and heft. I'll have to ask Scott Volquartsen the exact weight on this configuration, but I'd guess it's around 10 lbs. It has a thick barrel, which is commonly thought to improve accuracy. Its weight and barrel thickness is more similar to my competition Anschutz than my Savage youth model Mark II .22.
If shooting in positions other than prone or bench, I believe this gun would be a good pairing with competition clothing rather than street clothes. A rifle that weighs this much will be more challenging to hold steady in an off hand position without a shooting jacket. It requires a modified competition stance (bone-on-bone only) and even then I have to engage some muscle.
Read the rest or our Volquartsen Snake-Fluted Silhouette Stock .22 Rifle Review at The Truth About Guns Blog: http://tiny.cc/0zk50w
About The Truth About Guns :
Robert Farago founded The Truth About Guns in February of 2010 to explore the ethics, morality, business, politics, culture, technology, practice, strategy, dangers and fun of guns. The TTAG team's been at it ever since. We've built the site on word-of-mouth, strong writing, and a no-holds-barred attitude. Visit: www.thetruthaboutguns.com