Chapter's annual banquet this weekend at Hartman Farms in Ten Mile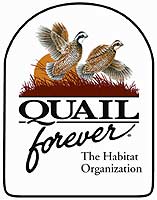 East Tennessee – -(Ammoland.com)- Tennessee is home to a new Quail Forever chapter known as the Volunteer Quail Forever chapter.
Bobwhite quail hunters, conservationists and youth educators in the region formed the local conservation group to make a difference for quail habitat while creating outdoor opportunities for area youth.
Bill Taylor, the chapter's newly elected president, said the chapter's goal is to increase wild quail populations in eastern Tennessee. Taylor, who hunts with his two sons, six year old Llewellin setter, Chance, and many times just a camera, enjoys introducing people to quail hunting. "(Quail hunting) is so neat; it's an activity with nothing but gentlemen. I find it amazing that you can get so much joy, laugh your head off and have fun with friends from just spending time afield."
Taylor also noted, "Our chapter and the quail hunting community are indebted to Gene Hartman. He cuts a wide swath as a leader in the community and in the chapter, furthering quail and quail hunting throughout Tennessee. He has also been kind enough to host our banquet at his farm."
"Bobwhite quail populations won't rebound by themselves. It takes people who care about quail, care about rolling up their sleeves and doing the necessary habitat work, and care about showing younger generations there is excitement beyond a box and a plug-in," said Tim Caughran, Quail Forever east region field manager, "The Volunteer Quail Forever chapter is off to a great start, and I am looking forward to seeing what they accomplish."

"Our chapter looks forward to 'the hunt.' The dream is to have more hunting for everyone and to have everyone included," continued Taylor.
As a Quail Forever chapter, the Volunteer Quail Forever chapter will utilize Quail Forever's local approach to wildlife habitat conservation. Unlike other national conservation organizations, Quail Forever gives local Quail Forever chapters the ability to decide how 100 percent of their fundraised dollars are spent. This local control provides chapters and members the ability to make things happen for wildlife in their communities, while belonging to a national organization that gives wildlife and conservation a voice in Washington, D.C.
Volunteer Quail Forever chapter
The Volunteer Quail Forever chapter is holding its annual banquet on August 10 at Hartman Farms in Ten Mile, Tennessee.
For more information, please contact Bill Taylor at 865-560-5766 .
Launched in August of 2005 by Pheasants Forever, Quail Forever exists to address the continuing loss of habitat suitable for quail and the subsequent quail population decline. For more information on "The Habitat Organization" in Tennessee, please contact Andy Edwards, Quail Forever regional representative in Tennessee, at 931-638-9478.
Pheasants Forever , including its quail conservation division, Quail Forever , is the nation's largest nonprofit organization dedicated to upland habitat conservation. Pheasants Forever and Quail Forever have more than 135,000 members and 740 local chapters across the United States and Canada. Chapters are empowered to determine how 100 percent of their locally raised conservation funds are spent, the only national conservation organization that operates through this truly grassroots structure.
Pheasants Forever is dedicated to the conservation of pheasants, quail and other wildlife through habitat improvements, public awareness, education and land management policies and programs.