By Max McGuire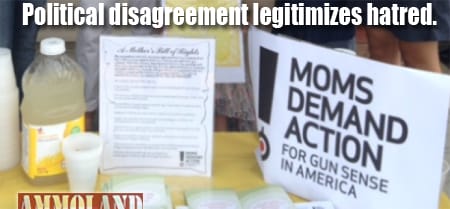 New Jersey – -(Ammoland.com)- I am a member of the New Jersey Second Amendment Society. For anyone who is not familiar with the organization, NJ2AS was founded in 2010 to promote Second Amendment rights in New Jersey and counter the gun control elements trying to influence New Jersey's firearms laws.
It is an excellent organization and I would highly recommend donating or becoming a member.
This morning, I joined two other NJ2AS members (Ron and James) in manning a citizen outreach table in Morristown, NJ. We chose this day and time because Moms Demand Action, a gun control group, was also running a Lemonade stand to gather signatures to lobby congress for expanded firearms background checks. We chose to set up right next to them and offer complimentary bottles of iced tea and brochures to pedestrians.
We arrived at around 11:15 with the supplies. On top of our fold out table, we draped an American Flag table cloth and spread out NJ2AS pamphlets and flyers. Literally a minute after we had finished setting up, one of the ladies from the neighboring table started calling the Mayor's office to try to get us removed for lacking a permit.
Within 15 minutes of her call, a Morristown police officer showed up on the scene. The officer couldn't have been nicer. Even as the moms were urging him to remove us from town property, he still supported our first amendment rights. Until we had a permit, he said, we would have to operate on the sidewalk instead of around the fountain where we originally were set up. He had us move our table about 20 feet onto the sidewalk.
Apparently there is a difference between "township property" and "public property." I realize I am not a lawyer, but I thought that township land WAS public property. But I digress…
Ron, a fellow NJ2AS member, walked over to city hall to get a permit and within an hour we were legal again. I was really surprised how intolerant the moms were. I know that they have a history of banning people who try to start a discussion on their Facebook page, but I expected them to be a little more cordial in person. Even once we were legally permitted to hand out literature on town property, the Moms Demand Action table continued to try to flag down passing police cruisers to get us kicked out.
I've always believed that people tend to be a lot more ballsy when they are hiding behind a computer screen than when they are talking to people in person. The anonymity of the Internet gives people a sense of confidence that is usually lacking in face-to-face confrontations. Well, I can report that Moms Demand Action members seem to be an exception to that rule. Every time they walked by our table, we would say "Hello, how are you?" and try to be nice. Most of the time, they just completely ignored us and gave us the evil eye as they walked past. While I completely disagree with them on all counts, I expected to at least have a civilized discussion with some of them and see if we could agree on SOMETHING.
I walked over to their table towards the end and tried to start up a conversation and look over their literature. When I reached out to grab a leaflet, one woman moved the pile of papers away to stop me from grabbing one. I understand that, for a lot of them, gun violence is a personal issue. I completely respect their right to grieve and participate in the political process. While I will never support what they say, I will staunchly defend their RIGHT to say it. Just because someone disagrees with another opinion is still no reason to go out of the way to be rude. I had one woman say to me (and I quote), "I'm glad Adam Lanza's mother was the first to die." All I could say in response was that that was a horrible, inhumane thing to say. When one pedestrian noticed that we were actually supporting the Second Amendment, he stopped himself from grabbing our pamphlet and said "I don't support you guys," before he went over to schmooze with the Moms. In retrospect, I never should have expected a man with a fanny pack to be pro-gun. Even so, I was taken aback by just how forcefully he said he didn't support us.
I knew from my experiences talking to people at the NJ Statehouse that there is really no reasoning with the gun-grabbers and folks from Moms Demand Action. They make so many illogical leaps that it is impossible to try and reason with them. I always knew they were cemented in their ideology and had no desire to consider any other view points. But it wasn't until today that I realized that they actually dislike me as a person because of my ideological views.
Obviously I cannot speak for all of the members of the Moms Demand organization, but I have yet to meet a member that reciprocates the kindness and respect that I afford them.
There is a personal level to their hatred that I didn't expect to find, and it leaves me depressed about the state of our country. The social scientists say that the United States is more politically polarized today than the country was during the civil war. That is a stark statistic. I don't think this is the result of more entrenched viewpoints. There have always been differing parties and opinions, but even the Federalists and Anti-Federalists were able to debate (for the most part) peacefully.
Today, there is this prevailing notion that political disagreement legitimizes hatred.
This phenomenon transcends party affiliation, whether it is the birther movement, class warfare instigators, race baiters, or the gun control crowd.
I like background checks for gun purchases, but I don't think a father should be forced to run a background check on his son if he wants to give a firearm as a gift. Well, it turns out one of the moms I tried to talk to had a family member who committed suicide after being gifted a family gun. Before I could even express my condolences, I was told that I "had better leave" because my opinions were apparently offensive.
I'm never going to understand the heartbreak of losing a loved one to suicide, and I hope I never have to experience that pain. The loss of any life is a tragedy. But it is also tragic how hatred has permeated into policy debates. Personal tragedy does not give you an excuse to treat political opponents disrespectfully. I am sure that if I encountered the ladies from Moms Demand Action under different circumstances, we could probably have a very pleasant conversation. While I am a registered Republican, I do not agree with all of the party's platform. I am sure that if the ladies from Moms Demand Action opened up and had a conversation with me, we'd find something to agree on. Maybe then we could have taken their lemonade and our iced tea and made an Arnold Palmer. It would have been a symbolic gesture.
Unfortunately, because I was handing out literature supporting yours and my constitutional rights, they wanted nothing to do with me. It's a shame.
About SanityPolitic' Max Mcguire;
Max McGuire is currently pursuing a Master's Degree in Political Science at Villanova University. He graduated from Boston College, majoring in Political Science and minoring in Arabic Studies. Follow him on Twitter @SanityPolitics