 Lake Oswego, Oregon –-(Ammoland.com)-  Alpha-TAC, parent company of ExtremeBeam, has announced Chevalier Advertising, Marketing & Public Relations as its agency of record.
This new partnership complements each other's strengths: Alpha-TAC's superlative and patented designs in its ExtremeBeam flashlight line and Chevalier's experience in the shooting, outdoors and tactical markets.
"We've chosen Chevalier for their proven work with Nikon, Winchester Ammunition, and other premier brands in the shooting and outdoors industry," said Alpha-TAC CEO David Wilson. "We specialize in high-end equipment and we were looking for a company with experience in marketing products of the same quality standards. Chevalier was that company."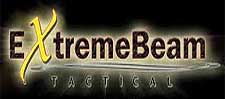 Chevalier will work with Alpha-TAC in nearly all aspects of their future growth, including web design, public relations, social media, collateral pieces, and more, to establish consistent branding and initiate a comprehensive marketing program.
"Alpha-TAC's ExtremeBeam flashlight line is poised to become a top contender in the sport, tactical and industrial industries," said Aaron Lisech, Account Manager at Chevalier Advertising. "We're thrilled and honored that they have brought us on board to help further their brand name and products."
About Alpha-TAC:
Alpha-TAC is the parent company of ExtremeBeam, and is committed to providing the best sport, tactical, and industrial lighting products available on the market. Their unmatched products feature a superior design and craftsmanship that allows them to outperform and outshine other high-end lighting products of the same class at an excellent value. For more information, please visit www.extremebeam.com.
About Chevalier Advertising, Marketing & Public Relations:
Located in Lake Oswego, Oregon, Chevalier is a full service advertising, marketing and public relations agency specializing in the marketing of hunting, outdoor, shooting and law enforcement products. For additional information about Chevalier, visit www.chevalier-adv.com.