Jerry Simmons, inventor of the Simmons Shark Broad Head passes away after a long bout with cancer.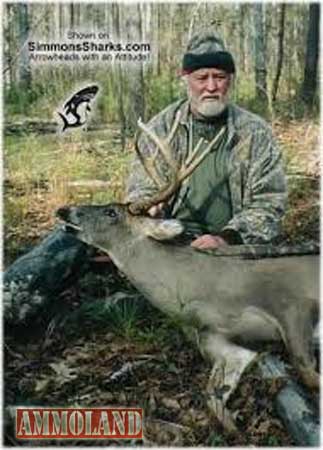 Kingsport, TN –-(Ammoland.com)- Bowhunting legend Jerry Simmons, creator of the Simmons Shark Broad Head, passed away Sunday Sept 8 2013 at his home in Jasper Alabama.
While Jerry is best known for his almost supernatural skills at hunting Whitetail Deer (almost 400 bow kills before losing count several years ago) he was also successful at taking every animal he hunted, from wild turkey to elk and bear.
Jerry first became interested in bow hunting big game while serving in the U.S. Army. He hunted whitetail deer in the Maryland marshes while on active duty. After being discharged he returned to Alabama just in time for the first bowhunt ever in his home state. Jerry harvested at 4 point buck during that short season making him the first Alabama bowhunter to take a deer with the bow and arrow.
Internationally acclaimed archer Byron Ferguson credits Jerry Simmons as being his mentor.
"Jerry was a rare breed, he never harvested a single deer with a firearm of any kind, he stayed true to the bow and arrow. Everything I know about bowhunting I owe to Jerry. He was my mentor, hunting partner and dear friend. Rest assured every arrow I loose at a whitetail Jerry will be with me".
Funeral arrangements to be announced.