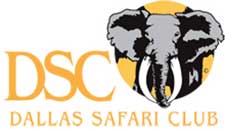 DALLAS –-(Ammoland.com)- Dallas Safari Club (DSC) is among the many sporting organizations headed this week to Washington D.C. for meetings with lawmakers and policymakers who influence hunting and conservation.
The main event is the annual banquet of the Congressional Sportsmen's Foundation, for which DSC Executive Director Ben Carter serves as a director.
Carter says the event is an opportunity to meet and network with senators and representatives. Many attendees also use their time in our nation's capital for personal meetings with legislators to discuss their organization's priority issues. DSC is no exception. A contingent of DSC delegates has a full agenda of appointments to address the following topics:
1. Potential Listing of the African Lion
The concern is that overharvesting young males could reduce lion populations overall, potentially leading to listing under the Endangered Species Act. Focusing hunters on older, surplus males is the solution. In January, DSC announced a new definition of the ideal huntable male lion as "at least six years of age and is not known to head a pride or be part of a coalition heading a pride with dependent cubs." More than 70 major safari operators, hunting industry leaders and top conservationists pledged support. In April, the International Council for Game and Wildlife Conservation adopted a similar stance and credited DSC for leadership in urging lion hunters to self-impose harvest restrictions.
2. Resurrecting the Sportsmen's Act
This package of bills, considered by many to be the most pro-sportsman measure heard in Congress for many years, was introduced in 2012. It was later shelved over technicalities related to a proposed fee increase on federal ducks stamps. One now-dormant component, and a DSC priority for several years, is a bill that would allow importation of polar bear trophies taken legally prior to listing under the Endangered Species Act. As it stands, the keepsake hides are wasting away in a Canadian storage facility.
3. "Three Amigos" Legislation
Three foreign antelope species–the scimitar-horned oryx, dama gazelle and addax–are declining in their native lands and are listed under the Endangered Species Act. However, introduced populations are thriving in Texas. DSC is seeking a legal exemption that would allow these animals to be hunted or otherwise utilized. Giving them value creates an incentive for ranchers to continue efforts to conserve these species.
Carter says DSC also is prepared to discuss a variety of other issues, as time allows.
The Congressional Sportsmen's Foundation banquet, Sept. 11, begins with a reception and speech by new Secretary of the Interior Sally Jewell.
Carter will stay for a Congressional Sportsmen's Foundation board meeting the next day.
About Dallas Safari Club (DSC)
Desert bighorns on an unbroken landscape, stalking Cape buffalo in heavy brush, students discovering conservation. DSC works to guarantee a future for all these and much more. An independent organization since 1982, DSC has become an international leader in conserving wildlife and wilderness lands, educating youth and the general public, and promoting and protecting the rights and interests of hunters worldwide. Get involved at www.biggame.org.