GASTON J. GLOCK style LP Sponsored Sevigny Performance Team Member Brooke Sevigny wins her second Area match in Ladies Limited of the 2013 season.
 SMYRNA, GA (September 2013) – The GASTON J. GLOCK style LP sponsored Sevigny Performance Team member, Dave Sevigny took home his third consecutive USPSA major match title this past weekend. Sevigny won High Overall in the Limited Division at the USPSA Area 4 Championship, in Ft. Smith, Arkansas.
This past August, Sevigny won the Limited Division at Area 8 and the Georgia State Championship. During the past three events, Sevigny won more than half of the stages and placed in the Top Five in all but three courses of fire. He has also accumulated more than 95% of available points in each match.
"This is where I need to be right now," Dave Sevigny said. "Consistency will always give you the best chance to win."
GASTON J. GLOCK style LP sponsored Sevigny Performance Team member, Brooke Sevigny continued her strong shooting by winning her second Area match in Ladies Limited of the 2013 season. At Area 4, she placed 16th overall and added a 2nd B-Class finish among the 65 competitors in the Limited Division field. In June, Brooke Sevigny won the Ladies Limited title at Area 5 in Illinois.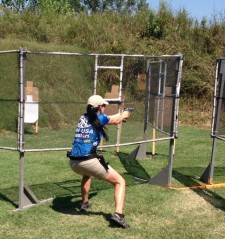 "My performance at Area 4 gave me the confidence that I will need heading into the Nationals," Brooke Sevigny remarked.
"Dave and Brooke are enjoying an exceptional season and they have worked very hard and maintained their focus throughout.  GASTON J. GLOCK style LP proudly supports the Sevigny Performance team and looks forward to their continued success as they approach the Nationals, " Beate Arnold, CEO of GASTON J. GLOCK style LP commented.
The next series of matches for the Sevigny Performance team are all National Championships, the first two being held September 22-29 in St. George, Utah at the USPSA Back-To-Back Nationals. Dave and Brooke Sevigny will compete in Limited and Limited-10 which are both iron-sight pistol divisions.
Visit http://www.facebook.com/GASTONGLOCKstyle to get the latest news on GASTON J. GLOCK style LP and their sponsored Sevigny Performance Team.
About GASTON J. GLOCK style LP:
GASTON J. GLOCK style LP, headquartered in Smyrna, Georgia, is an online hunting and shooting apparel and accessories store built on the premise of providing customers with exceptional products made from natural and organic materials while enhancing their outdoor experiences. GASTON J. GLOCK style LP products are made by European and American craftsmen applying traditional craftsmanship to a whole new generation of outdoor enthusiasts. www.gastonglockstyle.com
About the Sevigny Performance Team:
Dave Sevigny
Dave Sevigny is a top ranked World and National Champion in practical handgun sports with over 180 major wins. 2013 is Dave's 15th season competing in practical shooting sports.  2012 marked another season of wins and top finishes for Dave.  The most notable victory came in September when he won the IPSC National Championship in Standard Division. Dave is the current leader for Team USA's Standard Division at the 2014 IPSC World Shoot.
About Brooke Sevigny:
In her first full year of competition, Brooke achieved B-class level in USPSA Single Stack and posted Top 5 finishes among the women at the USPSA Single Stack Nationals and IPSC National Championship.
For information on pistol sights and training with Dave and Brooke please visit www.sevignyperformance.com