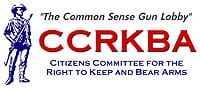 BELLEVUE, WA – -(Ammoland.com)- The arrest of a New York City police officer and his brother on federal weapons charges demonstrates a need for anti-gun Mayor Michael Bloomberg to keep his own house clean before he spends one more dime or one more day trying to tell the rest of the country about "illegal guns," the Citizens Committee for the Right to Keep and Bear Arms said today.
"Right under Bloomberg's nose," CCRKBA Chairman Alan Gottlieb observed. "Maybe he should pay more attention to what happens in Manhattan than mainstream America, where law-abiding gun owners are tired of his big bucks demagoguery."
NYPD officer Rex Maralit and his brother, Customs and Border Protection officer Wilfredo Maralit, reportedly face charges of conspiring to violate the Arms Export Control Act, and dealing firearms without a license. A third brother, identified as Ariel, was also named by federal authorities but he lives in the Philippines.
"Published reports say this alleged gun running started in January 2009, the same month Barack Obama took office, and continued until at least March of this year," Gottlieb said. "All that time, Bloomberg has been throwing money at schemes to impair the firearm civil rights of law-abiding citizens, through his 'Mayors Against Illegal Guns' enterprise.

"He's spending hundreds of thousands of dollars to push extremist gun control measures, defend extremist anti-gun politicians in Colorado and cajole Congress to pass dubious gun laws, while one of his own police officers is apparently mixed up in international gun trafficking," he continued. "

Mayor Bloomberg needs to close his wallet, shut his mouth and mind his own business instead of telling everyone else how mind theirs.

"America's would-be emperor has no clothes," Gottlieb concluded. "His fanaticism is no substitute for common sense that would keep other municipal CEO's at home. In his drive to put the brakes on gun rights, Michael Bloomberg appears to be asleep at the wheel."
With more than 650,000 members and supporters nationwide, the Citizens Committee for the Right to Keep and Bear Arms is one of the nation's premier gun rights organizations. As a non-profit organization, the Citizens Committee is dedicated to preserving firearms freedoms through active lobbying of elected officials and facilitating grass-roots organization of gun rights activists in local communities throughout the United States. The Citizens Committee can be reached by phone at (425) 454-4911, on the Internet at www.ccrkba.org or by email to [email protected]