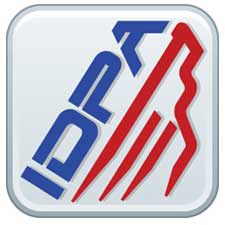 BERRYVILLE, Ark. –-(Ammoland.com)-  The International Defensive Pistol Association's (IDPA) U.S. National Championship kicks-off this Thursday bringing together the sport's top shooters in a chase for the title in one of five divisions and 11 categories.
Fueled by the increased demand for concealed carry permits, IDPA remains the country's fastest growing shooting sport. To give IDPA members and fans an inside look at the shooting challenges competitors will face at this year's U.S. Nationals, the organization is previewing online all 17 stages of the championship.
"On Saturday we began previewing on IDPA's website and Facebook page the stages of this year's U.S. National Championship. Each day we will add a few more stages until all 17 are posted online for review before that match officially kicks off on Thursday," said Joyce Wilson, executive director of IDPA.
IDPA members and others interested in the scenarios and stage designs featured in this year's match should visit the DOWN ZERO blog, the official blog of IDPA, or 'Like' IDPA's Facebook page.
"We know that IDPA match directors all around the U.S., and in our more than 50 member nations, are always looking for new, challenging scenarios to incorporate into their own matches. Our hope is that course designers will see the site as a valuable resource to help them improve their local matches," added Wilson.
Taking place September 19 thru 21 on the ranges of the U.S. Shooting Academy in Tulsa, Oklahoma, the 2013 IDPA U.S. National Championship is sponsored by Brownells, Comp-Tac Victory Gear, CZ-USA, FNH-USA, GLOCK, Harris Publications, the National Shooting Sports Foundation, Nighthawk Custom, Ruger, Safariland, Smith & Wesson, Taurus and Wilson Combat, among others.
For more information on IDPA, the 2013 IDPA U.S. National Championship, or to join the more than 22,000 members competing each week all across America, visit www.IDPA.com.
You can further connect with the IDPA community through IDPA's social media, such as @OfficialIDPA on Twitter and ShootIDPA on Facebook, Instagram, Pinterest and Tumblr, or check for regular news and updates on the organization's DOWN ZERO Blog.