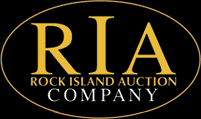 Rock Island, IL –-(Ammoland.com)- Rock Island Auction Company is pleased to announce that the number one show on the Sportsman Channel, NRA's Guns & Gold, will be filming at the world's number one firearms auction house all this week and during the Preview Day for our 2013 September Premiere Auction!
Come and meet two of collector firearms' most recognizable faces as they soak in all the experience of a RIAC auction!
In fact, there's still time to sign up for the same tour of our facilities that they received. We haven't opened our doors to the public like this before so be prepared to be impressed at the scale of the operation and to be amazed at our massive warehouse full of beautiful collector firearms.
NRA's Guns & Gold will not be evaluating guns at the auction, but will be showing off some of our consignor's items and what makes them interesting, historical, unique, and luxurious. We're very excited for this perfect friendship and to show a bunch of new collectors just how we do things here at Rock Island Auction Company.
It's just another reason to come see us at our September Premiere Firearms Auction this weekend. Come to our Preview Day! There'll be known firearms experts, plenty of gun talk, and our FREE 2nd Annual Bar-B-Que that evening with live music, cold drinks, and great food. Come be part of the excitement!
About:
Rock Island Auction Company has been solely owned and operated by Patrick Hogan. This company was conceived on the idea that both the sellers and buyers should be completely informed and provided a professional venue for a true auction. After working with two other auction companies, Mr. Hogan began Rock Island Auction in 1993. Rock Island Auction Company has grown to be one of the top firearms auction houses in the nation. Under Mr. Hogan's guidance the company has experienced growth each and every year; and he is the first to say it is his staff's hard work and determination that have yielded such results. Visit: www.rockislandauction.com