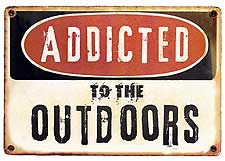 TAMPA, FLORIDA – -(Ammoland.com)- Jon and Gina Brunson, hosts of "Addicted to the Outdoors," are travelling to the Georgia Dome for an intra-conference showdown between the Atlanta Falcons and the St. Louis Rams on behalf of Outdoor Channel, America's Leader In Outdoor TV, and XFINITY TV from Comcast.
As week two of the National Football League (NFL) season is underway, Jon and Gina are looking forward to celebrating their recreational passions with outdoor and football enthusiasts. The duo will be on-site at the XFINITY Tent in "Falcons Landing," the pregame epicenter for Falcons fans prior to entering the Georgia Dome, for meet-and-greets.
Known for their well-documented outdoor adventures – whether it be hunts in the Midwest for whitetail, crossing the border for Canadian mule deer, trekking the Everglades for Florida gators, or noodlin' for catfish in Kentucky – this dynamic couple certainly has an affinity for all things outdoors. Swing by to meet Jon and Gina, learn about their thrilling journeys, snag a picture and enjoy some giveaways, including custom koozies, branded lapel pins and hourly chances to win a $250 gift card to Bass Pro Shops.
The unique Outdoor Channel and XFINITY gathering brings large swaths of sports fans together during this thrilling time for both football – the beginning of the NFL season – and the outdoors – the beginning of hunting season. In fact, whitetail, mule deer and elk hunting kick off on Saturday, September 14th in the great state of Georgia. All the more reason to seek out tips from the pros like Jon and Gina, as well as enter the gift card raffle for any last-minute hunting gear shopping.
To see more of the Brunsons, audiences in the Atlanta region can tune in to Outdoor Channel on XFINITY (HD 758 | SD 210) to watch "Addicted to the Outdoors" on Mondays at 10:00 p.m. ET, and Thursdays at 11:00 a.m. ET and 6:00 p.m. ET.
WHEN: Sunday, September 15th | 10:00 a.m. – 1:00 p.m.
WHERE: Georgia Dome – Falcons Landing | 1 Georgia Dome Dr. NW | Atlanta, GA