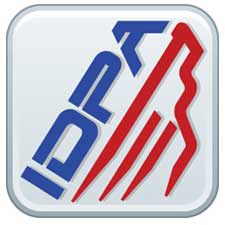 TULSA, Okla. – -(Ammoland.com)- Team Panteao's Tom Yost took the High Senior title this past weekend at the IDPA U.S. National Championship.
Yost, who competed as a Master in Stock Service Pistol division, finished second in the division and sixth among all competitors with his final time of 251.09 seconds and 44 points down.
"Tom is one of the most active leaders in IDPA and when he's not volunteering his time to improve and grow the sport, he's out competing as one of our top shooters – and winning this year's IDPA National Senior Champion title," said Joyce Wilson, executive director of IDPA.
Finishing 8.41 seconds behind Yost was the defending senior champion Scott Warren, an ESP Master, with 259.50 (61). Third place went to Matt Sims, a CDP Master, with 269.21 (57). Academi's Bill Go, an SSP Master, finished fourth with 287.34 (47) followed by Team Smith & Wesson's Jerry Miculek who won the ESR National Championship title with a time of 294.66 seconds with 76 points down.
The 2013 IDPA U.S. National Championship took place September 19-22 in Tulsa, Okla., drawing many of the shooting sports' top pistol and revolver shooters.
For more information on IDPA, the 2013 IDPA U.S. National Championship, or to join the more than 22,000 members competing each week all across America, visit www.IDPA.com.
You can further connect with the IDPA community through IDPA's social media, such as @OfficialIDPA on Twitter and ShootIDPA on Facebook, Instagram, Pinterest and Tumblr, or check for regular news and updates on the organization's DOWN ZERO Blog.