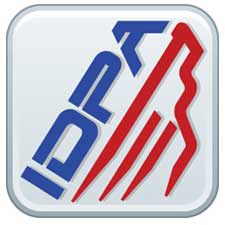 TULSA, Okla. –-(Ammoland.com)- Team Panteao's Bob Vogel continued his win streak to seven in a row with his victory in the Stock Service Pistol division this past weekend at the IDPA U.S. National Championship.
Vogel, who is a Distinguished Master in IDPA, has not been beaten at this event since 2007. With stage wins on 12 of the 17 stages, and the fastest overall time of any competitor in the match, Vogel took the title with his final time of 212.42 seconds and just 32 points down. Vogel also claimed the High Industry award.
"Right now nobody can beat Bob, and his dominating performance this weekend doesn't give much hope to his challengers that this will change anytime soon," said Joyce Wilson, executive director of IDPA.
Second place in the SSP division went to Vogel's Panteao teammate Tom Yost who not only finished first Master with 251.09 (44), but also won the High Senior title. Third place went to Christopher Keller, the second Master, with 259.71 (57). Rounding out the top five were Randi Rogers, now shooting for both Team Comp-Tac and Team Smith & Wesson, the third Master and High Lady winner with 262.59 (66), and Team RangeLog's Deon Martin, fourth Master, with 269.94 (44).
Elsewhere in the division, David Orr took first Expert with 313.47 (76). Philip Bernard finished first Sharpshooter with 341.78 (113). Shawn Bevenue won first Marksman 437.05 (109). Taking home the High Distinguished Senior with 340.30 (89) was Scott Randolph, while Patrick Doyle was honored as the High Law Enforcement shooter with his final time of 275.52 (98).
The 2013 IDPA U.S. National Championship took place September 19-22 in Tulsa, Okla., drawing many of the shooting sports' top pistol and revolver shooters.
For more information on IDPA, the 2013 IDPA U.S. National Championship, or to join the more than 22,000 members competing each week all across America, visit www.IDPA.com.
You can further connect with the IDPA community through IDPA's social media, such as @OfficialIDPA on Twitter and ShootIDPA on Facebook, Instagram, Pinterest and Tumblr, or check for regular news and updates on the organization's DOWN ZERO Blog.