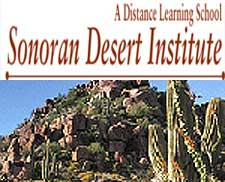 SCOTTSDALE, Ariz. —-(Ammoland.com)- Sonoran Desert Institute (SDI), an industry leader in providing accredited and accelerated distance learning, announces a highly anticipated upgrade to its curriculum with the addition of a "AR-15 Armorer Certificate," a detailed learning program specializing in the AR-15 platform.
The new curriculum delivers a comprehensive review on the AR-15, from history to accessories to parts and functions, and instructs students on building and milling their own 80% Lower Receiver. The certificate program also provides instructions on how to finish building the rifle and gives discounts on the parts needed for the task.
"Modern rifles, and particularly the AR, have become vastly popular among gun owners, shooting enthusiasts and hunters. We're very excited that this new module will help gunsmiths across the country satisfy the growing demand for repairs and service on these types of rifles," says Pam Rogers, director of Sonoran Desert Institute.
SDI Instructor and certified armorer Jason Pfannenstiel explains that the AR-15 80% Lower Receiver is the most commonly purchased 80% lower receiver in the country today, and that the amount of parts available on the commercial market allow for a wide array of combinations and configurations.
"The 80% AR-15 Lower Receiver is a great starting point for many calibers including .223-5.56mm, 6.8 SPC, 7.62x39mm, 5.45x39mm, 6.5 Grendel. .50 Beowulf, 9mm, .45 ACP and many others," says Pfannenstiel. "SDI's new AR-15 Armorer Certificate has set a new educational standard because of its outstanding curriculum content and the fact that it actually provides each student with an 80% lower receiver and a jig to complete the task."
The SDI AR-15 Armorer Certificate is offered exclusively as a stand-alone program for SDI graduates of the Gunsmithing Certificate and Associate of Science in Firearms Technology degree.
Sonoran Desert Institute is an accredited distance learning school providing undergraduate degree and certificate programs in allied health, real estate and construction and firearms technology. Sonoran Desert Institute School of Firearms Technology offers a 40 semester-credit Gunsmithing Certificate course and is the most complete gunsmith training program of its kind. The Associate of Science degree in Firearms Technology program prepares students for personal development and/or employment in the custom gun trade, from entry-level employees to small business owners. Students learn about custom firearms, stocks, rifles, handguns, shotguns, metal refinishing, ballistics, metal work and engraving, and business principles necessary to become a gunsmith. The Firearms Technology program requires 60 semester credit hours.
Sonoran Desert Institute offers high quality, rigorous educational programs with the convenience and flexibility of distance delivery. The school has been an innovator since its inception and is accredited by the Distance Education and Training Council (DETC). SDI educational programs are designed predominantly for adult learners, based on principles and practices of active self-learning, and feature one-on-one faculty class facilitation.
To learn more about on the highly acclaimed distance learning programs at Sonoran Desert Institute, visit www.SDI.edu or call 800.336.8939.
Located in Scottsdale, Ariz., Sonoran Desert Institute is an accredited online school providing undergraduate degree and certificate programs in allied health, real estate and construction and firearms technology. SDI is dedicated to offering affordable, premium, distance-delivered career education that provides a labor market advantage to its graduates. For more information on Sonoran Desert Institute, call 800.336.8939 or visit www.SDI.edu.