Exclusively on Sportsman Channel, Host Cam Edwards Meets with Top Industry Executives in D.C.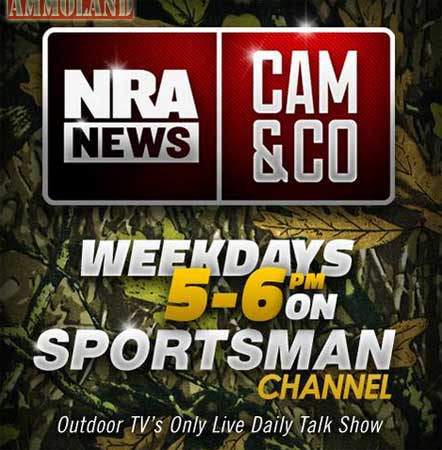 New Berlin, Wis. –-(Ammoland.com)- This week on NRA NEWS Cam & Co., Sportsman Channel's ground-breaking news-talk television series, host Cam Edwards interviews high-profile and entertaining top industry executives guests for the most informed hour on TV for today's American sportsman.
This week, Edwards will talk with guests Pete Brownell of Brownell's, Ronnie Barrett of Barrett Firearms and Larry Keane of National Shooting Sports Foundation. Plus, don't miss Cam's unique angles on the news of the day and this week's USA Shooting Sports Spotlight. Tune in to NRA NEWS Cam & Co weekdays at 5 pm ET.
Guests this week were interviewed at a recent D.C. book release party for Emily Miller, author of Emily Got Her Gun, But Obama Wants Yours.
Tuesday, September 17 – Cam speaks with Ronnie Barrett, founder of Barrett Firearms and also an NRA Board Member, at the book release party. They discuss the recent Colorado elections and what it means for gun owners across America.
Wednesday, September 18 – Cam visits with Pete Brownell, founder of Brownell's and also an NRA Board Member, at the book release party. They talk candidly of Second Amendment issues of the day and what keeps Pete up at night.
Thursday, September 19 – Larry Keane of National Shooting Sports Foundation talks with Special Reporter Cameron Gray, on what NSSF is doing for Second Amendment rights and what's on the horizon. Also, don't miss the USA Shooting Sports Spotlight with an update on the World Championships, going on now.
Hosted by Cam Edwards, and airing live from the NRA News Studios in Washington, D.C., NRA NEWS Cam & Co. is the one and only news-talk series on television that can authoritatively address the issues that are vital to America's more than 80 million sportsmen and sportswomen. Edwards, an engaging radio personality, insightful interviewer, sportsman and shooting enthusiast, brings a completely unique perspective and intelligence that does not exist anywhere else on news-talk TV. Together with his special guests, the show explores the day's current events, breaking news and much more.
About Sportsman Channel: Launched in 2003, Sportsman Channel, and Sportsman HD, is the only television and digital media company fully devoted to sportsmen in the United States, delivering entertaining and educational programming focused exclusively on hunting, shooting and fishing activities. Sportsman Channel reaches more than 32 million U.S. television households and is available in HD. Visit www.thesportsmanchannel.com, follow on Twitter, @SPORTSMANchnl (twitter.com/SPORTSMANchnl) and Like on Facebook, facebook.com/sportsmanchannel