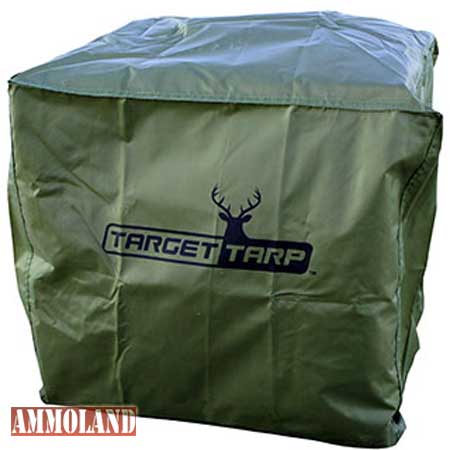 Englewood, CO –-(Ammoland.com)-  Do you find yourself buying a block or bag target every season because your last target rotted away?
If so, Target Tarp's Block Saver Archery Target Cover is the answer for you.
Designed specifically for covering block, bag and small-game targets, Block Saver will save you money and the hassle of replacing your targets each season.
The Target Tarp Block Saver helps to keep your archery target from fading and cracking thanks to a protective UV- and water-resistant design;.
This light-weight target cover will provide complete concealment and protection for your target quickly, quietly and effortlessly.
The Block Saver also comes complete with a matching stuff sack, making it easy to carry anywhere. Its two size options, small and large, make it compatible with an array of different shape and size targets.
The small fits most small and medium block- and bag-type targets up to 20″ x 20″ x 18″. It will also fit small game and varmint targets up to 25″ x 25″ x 15″, such as standing turkey and raccoon targets.
The large fits most medium to large block- and bag-type targets up to 25″ x 25″ x 20″. It will also fit small-game targets up to 30″ x 30″ x 20″, such as strutting turkey, fox and badger targets.
So, stop wasting money on archery targets. Let Target Tarp Block Saver protect your target for years to come.
Biy your own Target Tarp Block Saver at Amazon : http://tiny.cc/pgwt3w
For more information about this and additional Target Tarp products, check out www.archerytargetcover.com.