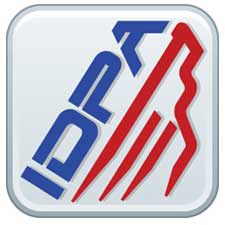 TULSA, Okla. –-(Ammoland.com)- Team ITI's Brandon Wright claimed the national Enhanced Service Pistol division title this past weekend at the 2013 IDPA U.S. National Championship.
Ranked a Distinguished Master in IDPA, Wright finished the match in 225.69 seconds, the second fastest overall time in the competition, while shooting only 51 points down.
"After winning the ESP title at the Smith & Wesson Indoor Nationals earlier this year, Brandon is putting shooters on notice that if they want the trophy they'll have to get past him to collect it," said Joyce Wilson, executive director of IDPA.
Coming in second place behind Wright was fellow Team ITI member Morgan Allen who took first Master with 241.85 (62). Matt Mink, the CZ-USA shooter and defending champion, placed third with 246.69 (27). Wilson Combat's Eric Fuson, second Master, finished fourth with 253.08 (36) followed by A.J. Stuart, third Master, with 255.70 (55).
Elsewhere in the division, Andrew Steele won first Expert, and took home the High Veteran award, with his 290.23 (66) finish. Jim Bone claimed first Sharpshooter with 349.12 (63), while Randy Smith finished first Marksman with 343.53 (84).
Nelso Lopez Iglesias of Venezuela won the High International title finishing eighth overall in the division with 277.12 (45). 15-Year-old Ashley Rheuark won High Junior and finished second among all women competing with her time of 327.89 seconds and 61 points down. John Strayer captured the High Press title with 320.93 (44).
The 2013 IDPA U.S. National Championship took place September 19-22 in Tulsa, Okla., drawing many of the shooting sports' top pistol and revolver shooters.
For more information on IDPA, the 2013 IDPA U.S. National Championship, or to join the more than 22,000 members competing each week all across America, visit www.IDPA.com.
You can further connect with the IDPA community through IDPA's social media, such as @OfficialIDPA on Twitter and ShootIDPA on Facebook, Instagram, Pinterest and Tumblr, or check for regular news and updates on the organization's DOWN ZERO Blog.