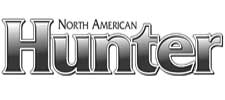 Minnetonka, MN –-(Ammoland.com)- This week on North American Hunter-TV, Mark Kayser travels to his home state of South Dakota for a mule deer and whitetail hunt on a reservation in the Badlands. But the area is thick with hunters, and the high winds are definitely pushing deer around.
Will Kayser get his shot before this short trip concludes? North American Hunter-TV is part of the North American Hunting Club, the premier community for hunters and outdoor enthusiasts. Tune in for a look at this week's episode here.
"To get your deer," Kayser says, "find the food and find the roughest country. In this case, we are in the Badlands. I guarantee you that's where the deer will travel. I look for any type of structure to hide around, like old farm equipment or even a fence line offers perfect cover. Deer come out and never know we are here."
With fellow hunters milling around him, Kayser doesn't see it as a bad opportunity as it helps to drive the deer. He eventually spots a huge muley in the distance and decides, with daylight waning, to go after him. But it seems every time Kayser crests a hill, the buck moves into the next valley. Will Kasyer be able to chase this muley down?
Also in this week's episode, Editor-in-Chief Gordy Krahn heads to the Sandhills of Nebraska with retired NFL player, Joe Jurevicius for a coyote hunt. Joe graciously allows Krahn to get the first shot this time. But will the coyotes cooperate to allow another chance for Joe?
Also in this week's episode, tune in for the "Mathews Minute" segment where Luke Hartle showshow to get creative when practicing for rough-country bow shots. In Field Test powered by StuffStuff, get the latest reviews on the Scent Killer Liquid Gold Clothing Wash, ThermaCELL Heated Insoles and Hendrix WHDi Knife. Lastly, in "You Call the Shots," Kayser and Hartle discuss a South Dakota whitetail hunt where Kayser used calls to lure whitetails closer.
North American Hunter-TV airs on NBC Sports Network Tuesdays at 1:30 p.m.; Thursdays at 5:30 a.m.; and Sundays at 6:30 a.m. and 10:30 p.m. ET; and on Pursuit Channel on Thursdays 3:30 p.m., Fridays 6:30 a.m., Sundays 8 p.m; Velocity air times are: Mondays 6 p.m., Tuesdays 7 a.m., Saturdays 10 a.m.; and Wild TV air times are: Tuesdays 3 p.m., Thursdays 7:30 a.m., Fridays 12 p.m., Saturdays 7 p.m. All times Eastern.
Join the North American Hunting Club FREE for the first 30 days and receive a digital copy of North American Hunter; just log onto HuntingClub.com
About North American Hunting Club: With 550,000 enthusiastic members, North American Hunting Club—through its official publication, North American Hunter—strives to increase the hunting skills and enjoyment of Club members. The NAHC's mission is to serve as a one-stop source where avid hunters from across North America can satisfy all their hunting needs. The Club also acts as a vehicle through which hunters from all points of the compass can communicate—sharing success stories, photos and videos through the magazine, website and the social network. For more information on the NAHC, visit: http://huntingclub.com