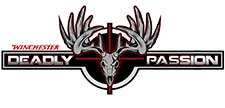 Minnetonka, MN –-(Ammoland.com)- In the season finale of Winchester Deadly Passion, host Melissa Bachman travels to her favorite whitetail spot, southern Illinois, for a late season slug gun hunt.
Last time she was here, she took home a 202 inch buck. Will the monster bucks come out again for her?
Tune in Winchester Deadly Passion on the Pursuit Channel; Tuesdays at 6:30 am, Wednesdays at 1:30 pm and Sundays at 7:30 pm ET. Catch a preview of the show here.
"Like any deer hunter, I love to hunt big bucks," said Bachman. "It's a rush to see a giant come your way. But there's a lot of time that needs to be invested before that deer can cross your path." Bachman definitely puts in the time to scout, manage food plots and other activities to ensure a successful hunt.
On this particular hunt, Bachman is hunting from the ground, not in a treestand or blind that she's more familiar.
"The hardest part of hunting from the ground is visibility. I'm trying to pick out a spot that has a little higher advantage," said Bachman.
She tries rattling, spot and stalk and ground hunting to eventually lure in bucks. But many stay just beyond her gun's reach for a safe shot. Will she get her prize buck she's been dreaming of that will be her season closer? Tune in to find out!
Don't miss all the action this week on Pursuit Channel. Winchester Deadly Passion is sponsored by: Can-Am BRP, Easton, Mathews, Rage, Smith & Wesson, Swarovski Optik, Wildlife Research Center and Winchester.
Winchester's Deadly Passion is 13-weeks of non-stop action and pure entertainment as host Melissa Bachman travels the country going face to face with everything from world-class bear to 1,000-pound gators to Boone and Crockett whitetails. The show will keep you on the edge of your seat with hardcore hunting mixed with Melissa's genuine and fun-loving personality. Her passion for hunting started at a young age and has continued to grow. Melissa is the real deal when it comes to hunting, but her personality is what will bring you back time and time again. She's having fun doing what she loves, and it shows. This is one girl with a Deadly Passion.
Learn more about Winchester Deadly Passion at Facebook.Com/DeadlyPassionMelissaBachman.
With a company heritage dating back to 1866, Winchester Ammunition was there for the taming of the American West, the Allied Forces' victory in World War II and through the years, millions of fond memories made in the great outdoors. Known as The American Legend™, Winchester is a global leader in sporting, law enforcement, military and personal defense ammunition production. Winchester continues to raise the bar with new products like AA TrAAcker, Varmint X and the 17 Win. Super Mag. To learn more about Winchester, visit Winchester.com or connect with Winchester at Facebook.Com/WinchesterOfficial.