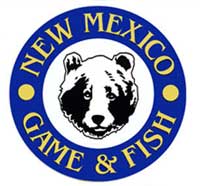 ALMA, NM –-(Ammoland.com)- New Mexico Department of Game and Fish conservation officer KC Gehrt recovered a dead, world-class, bull elk outside of Reserve Sept. 4 2013.
Poaching is suspected.
Hunters discovered the rotting, but completely intact, elk carcass in a canyon, a mile and a half east of Little Round Mountain. Hunters in the area last saw the massive elk alive Sept. 1 2013.
"It's stealing," hunter Jeff Lewis said. "The state lost a huge amount. That's a once in a lifetime bull." Lewis and his hunting partner Don Roach had been tracking and shooting video of the enormous elk for three years.

"Up until this year, every time we would have an encounter with him he would disappear," Lewis said. "But this year he was visible every morning and every night. We thought we would have a chance to have a stalk on him and have a chance to harvest. But the poacher must have seen him too. It's really horrendous."
After examining the elk Gehrt was able to find what appeared to be trauma to internal organs, in particular to the tops of the lungs, which would be consistent with injuries caused by a small caliber bullet. Due to extent that the elk had decomposed, Gehrt was not able to find the bullet.
"In the past, poachers have waited to return to an animal because they couldn't find it or they were waiting to claim the animal when they had a hunting license," Gehrt said. "That is what I suspect happened here. The wanton waste in this situation is sickening. It's one of the reasons that trophy poaching should be a treated as a felony."
Gehrt measured the elk's antler length to be 422.375 inches, shy of the Safari Club International (SCI) New Mexico Big Game Record of 437.625 inches (typical).
Although archery season opened Sept. 1 in Game Management Unit 23, it is illegal to hunt elk with a firearm during archery season.
If caught, the poacher could only face misdemeanor charges and potential civil penalties greater than $10,000 for the unlawful killing of a trophy elk this size.
"This is an ongoing investigation," said Gehrt. "We are following up on every lead."
One witness saw a silver Dodge pickup with dually-style rear wheels and New Mexico plates in the area around the time of the elk's death. Anyone with information about this crime is urged to call Operation Game Thief toll-free, (800) 432-GAME (4263), or to visit www.wildlife.state.nm.us.
Callers can remain anonymous and may earn rewards if information leads to charges being filed.