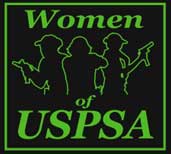 Glasgow, Mont. –-(Ammoland.com)- Kippi Leatham and Julie Golob, founders of the popular Women of USPSA website (www.WomenofUSPSA.com), announced that the site, along with its related social media accounts, has been acquired by the United States Practical Shooting Association.
Started in 2009, WomenofUSPSA.com is the flagship component of an online and integrated social media effort to promote the success of all female competitors in the fast-paced sport of practical shooting. Leatham and Golob founded and designed the site to share knowledge and experience with both new and accomplished shooters and to celebrate the achievements of women as competitors, range officers and volunteers. Reporting on events through the Women of USPSA blog, Facebook, Twitter and YouTube accounts, as well as a column in the sport's magazine Front Sight, Women of USPSA led the way in highlighting talented female shooters.
"When we started this project we never imagined Women of USPSA would be so personally fulfilling or find such success. It has been a wonderful journey, not only telling the story of our sport's female champions, but connecting with the dedicated women at the grassroots, club-level in our sport," said Leatham.

Golob added that, "Passing the reins over to the national governing body of the sport is bittersweet. I am extremely proud of our efforts and the contributions that so many have made, and the following we have established. Kippi and I are excited that USPSA has taken an interest in our project and recognizes the importance of the growing female demographic."
With the recent hire of the first female executive director of the organization, Kimberly Williams, USPSA plans to continue upkeep of the Women of USPSA social media sites and blog as well as further developing women's profiles at WomenofUSPSA.com.
About Women of USPSA:
Launched in September of 2009, WomenofUSPSA.com has established itself as the online home for women in the sport of practical shooting. Women of USPSA's mission is to encourage and inspire women everywhere to participate in the shooting sports by celebrating the women who compete in U.S. Practical Shooting Association competitions. Follow the Women of USPSA on the blog, Facebook, Twitter and YouTube.
About The United States Practical Shooting Association
The United States Practical Shooting Association is a non-profit membership association and the national governing body for the sport of Practical Shooting in America. USPSA has over 25,000 members and nearly 400 affiliated clubs which host weekly matches throughout the country providing recreational shooters with the opportunity to test and refine their shooting skills in a safe, competitive environment. USPSA is also the U.S. Region of the International Practical Shooting Confederation (IPSC), which is comprised of approximately 67 nations. For more information, visit www.uspsa.org.