YOU ARE THE CALIFORNIA GUN LOBBY! BE PROACTIVE AND GET INVOLVED. LAST CHANCE! ACT NOW! HELP CRPA STOP THESE ANTI-GUN & ANTI-HUNTING BILLS!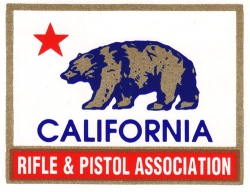 Sacramento, CA –-(Ammoland.com)- This is the LAST STOP for the following bills before they make it to the governor's desk.
These bills pose a serious threat to the rights of gun owners and hunters. They are now awaiting a vote on the Senate and Assembly Floors and will be taken up for a vote between now and September 13, the last day for a vote.
CRPA needs your continued help to stop these ANTI-GUN AND ANTI-HUNTING bills. Stand up for your rights! Voice your opposition – Call – Email – Fax – and/or Write. Call your Assembly Member and your Senator and let them know loud and clear that you OPPOSE these bills.
Click for contact information:
Don't know your district? Find your Assembly Member and Senator by clicking here.
MAKE SURE YOUR VOICE IS HEARD AT THE STATE CAPITOL.
Call, email and/or write.
State that you are a member of CRPA
Be professional and courteous
Be concise
State what your issue with the bill is (optional)
State that you are opposed to the bill; this is all you need to say, unless you want to give reasons why you are opposed
IMPORTANT NOTE: You may find that some Senators and Assembly Members try to reject your contacts if you are not from their district. Sometimes legislator's websites require that you enter a local zip code in order to email their office. Please don't be deterred by their attempts to silence you! Let them know that you have the right to contact them and that you will continue to contact them when there is a Second Amendment or hunting rights issue pending before the legislature. IT IS A DEMOCRATIC PROCESS AND YOU HAVE THE RIGHT TO BE HEARD – DON'T BE SILENCED!
BILLS KEPT IN SUSPENSE FILE:
THANKS TO YOUR EFFORTS, the following bills did not make it out of the Senate and Assembly Appropriations Suspense File on August 30.
SB 47 – (Leland Y. Yee, D) Firearms: assault weapons. Proposes a ban on centerfire semi-auto firearms equipped with bullet buttons.
SB 293 – (Mark DeSaulnier, D) Firearms: owner-authorized handguns.
Proposes to require any new handguns sold in California to be equipped with owner recognition technology.
BILLS SENT TO SENATE FLOOR AND ASSEMBLY FLOOR:
The following bills passed out of the Senate and Assembly Appropriations Committee Suspense Files August 30. These bills will now be heard anytime between now and September 13 on the Senate Floor and Assembly Floor.
These key bills are on the Senate Floor:
AB 48 – (Nancy Skinner, D) Firearms: ammunition: sales. Proposes ammunition registration, including notification to local law enforcement if a person purchases more than 6,000 rounds within a seven-day period. Bans high-capacity magazines and kits that hold more than 10 rounds.
AB 169
– (Roger Dickinson, D) Unsafe handguns. Proposes to limit private party transfers/consignments of non-rostered, used handguns. The bill would limit individuals to selling/consigning a maximum of two used handguns per calendar year.
AB 711 – (Anthony Rendon, D) Hunting: nonlead ammunition. Proposes to require the use of nonlead ammunition for the taking of all wildlife with a firearm.
These key bills are on the Assembly Floor:
SB 53 – (Kevin De Leon, D) Ammunition: purchase permits. Proposes to require purchasers to obtain an annual permit, issued by the Department of Justice, to purchase ammunition and limit purchases to face-to-face transactions through a licensed ammunition vendor. This bill would ban mail order and internet sales of ammunition.
SB 374 – (Darrell Steinberg, D) Firearms: assault weapons. Proposes to ban the sale of centerfire semi-auto rifles with any detachable magazine and rifles with fixed or tubular magazines over 10 rounds. The bill also proposes to require current owners of centerfire semi-automatic rifles with any detachable magazine and rifles with fixed or tubular magazines over 10 rounds to register such rifles as "so-called assault weapons."
SB 396 – (Loni Hancock, D) Firearms: magazine capacity. Proposes to ban all magazines that hold more than 10 rounds, regardless of the date acquired.
SB 567 – (Hannah-Beth Jackson, D) Firearms: shotguns. Proposes to redefine the current definition of a shotgun.
SB 755 – (Lois Wolk, D) Firearms: prohibited persons. Proposes to expand the list of misdemeanor convictions prohibiting firearms possession.
Hold on to your guns!
This year the CRPA is tracking an unprecedented number of bills – 53 to be exact – that could impact firearms owners and sportsmen. Most of this legislation is vehemently ANTI-GUN AND ANTI-HUNTING and outright attacks your gun rights.
For more information on these bills visit our Bill Status Update page here.
About:
The California Rifle and Pistol Association "CRPA," founded in 1875, is dedicated to defending the rights of law-abiding citizens to responsibly use firearms for self-defense and the defense of their loved ones, for sport, and for all other legal activities. CRPA is the official state association of the National Rifle Association. A California non-profit association, CRPA is independently directed by its own Board of Directors. CRPA's members include law enforcement officers, prosecutors, professionals, firearm experts, the general public, and loving parents. CRPA has always worked to reduce the criminal misuse of firearms and firearms accidents, while actively promoting and organizing the competitive shooting sports and Olympic training programs in California. We are proud to say that many CRPA competitors are among the best in the world. Visit: www.crpa.org