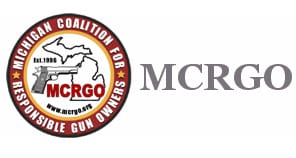 Michigan – -(Ammoland.com)- For those of you who can make it to Lansing on Thursday, this is guaranteed to be an EPIC debate on gun control.
Participants include:
Carol Bambery, NRA Board Member, General Counsel for AFWA and President of the MCRGO Foundation.
Steve Dulan, Endowment Member of the NRA, Adjunct Professor of firearms law at Cooley Law School and a member of the Board of Directors of MCRGO.
Both are internationally recognized gun rights advocates. They'll be going head to head with the leader of Michigan Moms Demand Action. The Sypmosium is free and open to the public.
When: Thursday, October 24, 2013, Noon-4:00 p.m.
Where: Cooley Temple Conference Center, 217 S. Capitol Avenue, Lansing, Mi.
More Information: http://www.cooley.edu/lawreview/symposium.html
About:
The Michigan Coalition for Responsible Gun Owners is a non-profit, non-partisan organization. Formed from just eight people in 1996, we now have thousands of members and numerous affiliated clubs across the state. We're growing larger and more effective every day.
Our mission statement is: "Promoting safe use and ownership of firearms through education, litigation, and legislation" Visit: www.mcrgo.org