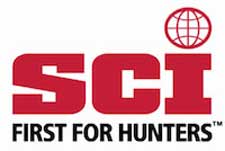 Las Vegas, Nevada – -(Ammoland.com)- Attending the annual Safari Club International Hunters' Convention February 5-8, 2014 in Las Vegas, Nevada not only allows hunters to enjoy the largest hunters' convention, with 2,500 exhibitors from all over the world, it also raises funds that support local conservation efforts.
Some of the funds raised during the annual SCI Convention help support the SCI Foundation.  Since 2000, the SCI Foundation has provided $50 million to promote science-based conservation through wildlife research, capacity building in governments, youth and teacher education, and humanitarian programs that show the importance of the hunting community in society around the world.
Conservation efforts that the SCI Foundation has supported recently in the United   States include predator/prey studies, species and habitat enhancements and wildlife disease studies.
A few of the specific projects that SCI Foundation is currently supporting from funds raised at the SCI Convention include:
Moose: In Wyoming SCI Foundation is supporting research to estimate moose population performance and the influence of grizzly and black bears on moose survival and recruitment where calf survival is low.
Black Bear:  SCI Foundation is assisting the Missouri Department of Conservation (MDC) to estimate the population of black bears, their movement patterns, habitat preferences, and genetic relatedness. Read More.
Wildlife Disease Management: SCI Foundation and Mossy Oak have partnered with the University of Georgia's Southeastern Cooperative Disease Study (SCWDS) to combat hemorrhagic disease, the most important viral disease of white­tailed deer in the United States. Read More.
Information on other North American Conservation projects, including predator/prey interactions, species and habitat enhancement and wildlife disease, can be found on the Safari Club International Foundation website.
Travel to Las Vegas, NV February 5-8 2014 for the annual Safari Club International Hunters' Convention and support local conservation efforts.  Register now while rooms are still available and discount badge pricing is still in effect.
About the SCI Hunters' Convention:Safari Club expects upwards of 24,000 international hunters to visit Las Vegas, Nevada, February 5-8, 2014.  The SCI Hunters' Convention represents the largest and most successful event to raise money for advocacy to protect hunters' rights. The 2014 Hunters' Convention will be the largest in the organization's history with nearly a million square feet of exhibits and 2,500 vendors. To register for the convention, visit www.showsci.org.
 Becoming an SCI Member: Joining Safari Club International is the best way to be an advocate for continuing our hunting heritage and supporting worldwide sustainable use conservation, wildlife education and humanitarian services.  JOIN NOW:  http://member.scifirstforhunters.org/join/
 Safari Club International – First For Hunters is the leader in protecting the freedom to hunt and in promoting wildlife conservation worldwide. SCI has approximately 200 Chapters worldwide and its members represent all 50 of the United States as well as 106 other countries. SCI's proactive leadership in a host of cooperative wildlife conservation, outdoor education and humanitarian programs, with the SCI Foundation and other conservation groups, research institutions and government agencies, empowers sportsmen to be contributing community members and participants in sound wildlife management and conservation. Visit the home page www.safariclub.org or call 520-620-1220 for more information.