Tampa-based agent brings home another national trophy from Albuquerque.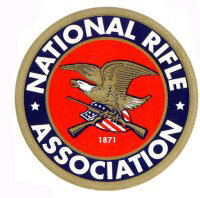 FAIRFAX, Va. –-(Ammoland.com)- Senior Border Patrol Agent Robert Vadasz stormed through NRA's National Police Shooting Championships at the Shooting Range Park in Albuquerque, New Mexico, to win the 2013 overall title. With a final score of 6,149-413x, Vadasz laid claim to his fifth championship in six years.
"I felt a little more confident and a little more in control this year," said Vadasz. "I was driving the gun better and just knew the shots were going to come."
The National Police Shooting Championships ran from September 16th through the 18th with team competitions taking place on the 19th. Though well ahead going into the final day, the Tampa, Florida-based Senior Border Patrol Agent still had cause for concern.
"I lost 13 points while shooting Distinguished Revolver, which is a big one. I knew going into the Off-Duty match today that I couldn't give up too many points if I was going to hang on."
Border Patrol's Enoch Smith recorded a total of 6144-422x (x stands for bullseye) for a second place finish while his teammate Kevin Worrell came in third with a 6140-401x.
The National Police Shooting Championships are made up of sixteen different individual matches. Those matches fall into four separate categories; Open Class Revolver, Open Class Semi-Automatic Pistol, Individual Service Pistol and Law Enforcement Shotgun. More than 400 law enforcement officers from across the globe gathered in Albuquerque to take part in the competition.
"Robert Vadasz continues to display the skills that makes him one of the best shooters in the history of the championships," said NRA Law Enforcement Director Glen Hoyer. "He sets the bar high for every law enforcement officer out there."
Albuquerque has been home to the National Police Shooting Champions since 2007, a move necessitated when Hurricane Katrina devastated their previous home in Jackson, Mississippi. A memory brought back to prominence with the recent natural disasters in the surrounding area.
"A number of competitors were called to duty because of the flooding in Colorado and New Mexico," said Hoyer. "Our hearts and prayers are with them all. It's that kind of dedication, as well as the continued assistance we receive from Mayor Berry and the Albuquerque Police Department, that makes the championship possible."
Other winners in this year's tournament included Stefanie Diaz of the Los Angeles Police Department who finished with a 6085-306x and the title of High Woman. LAPD's Robert Gowan won the High New Shooter category with a total score of 5851-208x and Karim Bernoti of Venezuela's Federacion Venezolana de Tiro shot a 6025-272x to take home the High International title.
First held in 1962, NPSC is run by the NRA's Law Enforcement Division, and supported in part by the Davidson's Law Enforcement Endowment and the Law Enforcement Training Endowment of the NRA Foundation. That support includes generous donations from over 100 firearm and equipment manufacturers including Brownells, FNH USA, Colt, Beretta and more.
For additional information about NRA's National Police Shooting Championships, visit npsc.nra.org call (703) 267-1632, or send e-mail to [email protected]