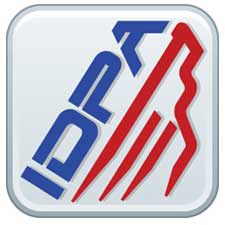 BERRYVILLE, Ark. –-(Ammoland.com)- Team Colt's Mark Redl took home top honors at the 2013 Smith & Wesson Live Free Or Die State IDPA Championship, winning both the Custom Defensive Pistol and the King of New England titles.
After his main challenger, Craig Buckland of team Wolff Gunsprings/Tactical Defense Solutions, suffered an ammunition failure at the chronograph resulting in a match disqualification for equipment, Redl outpaced his nearest competitor by 5.35 seconds to take the Live Free Or Die title.
In the King of New England series presented by Apex Tactical Specialties, Redl easily claimed the CDP portion of the series by more than 19 seconds.
The King of New England series recognizes the top shooters competing in the Massachusetts State Championship, the New England Regional and the Live Free Or Die, with the title going to the competitor with the top cumulative score, in their division, from four pre-selected stages from each of the three championships.
"Congratulations to Mark on both his Live Free Or Die CDP win and for taking the 2013 King of New England CDP title," said Ken Lambert, match director for the Smith & Wesson Live Free Or Die.
Redl finished the match with five stage wins and a final time of 305.16 seconds with 98 points down. Second pace went to Bob Biehl, first Expert, with 310.51 (51). Biehl also finished second in the King of New England series with 345.33 to Redl's 325.91.
Third place went to the first Master, Andrew Marocchini, with 315.50 (57). Aaron Haines finished fourth with 325.36 (98) while Matt Holmes placed fifth with 330.37 (103).
Elsewhere in the division, Kevin Wagner won first Sharpshooter with 403.94 (114). Cristian Arcilla finished first Marksman with 458.34 (166), and Heather Kies took first Novice with 698.03 (244).
The sold out 2013 Smith & Wesson Live Free Or Die State IDPA Championship took place October 18-20 and was hosted by the Pioneer Sportsmen Club in Dunbarton, N.H.
The match was sponsored by a number of firearms industry leaders, including Apex Tactical Specialties, Comp-Tac, iMarksman, New England Tactical, RangeLog, Ruger, Safariland, SIG SAUER, Taurus and Smith & Wesson, the title sponsor of the match.
For more information on IDPA, or to join the more than 22,000 members competing each week all across America, visit www.IDPA.com.
You can further connect with the IDPA community through IDPA's social media, such as @OfficialIDPA on Twitter and ShootIDPA on Facebook, Instagram, Pinterest and Tumblr, or check for regular news and updates on the organization's DOWN ZERO Blog.