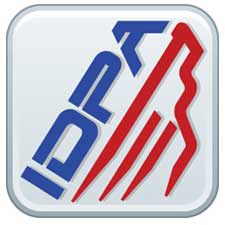 BERRYVILLE, Ark. –-(Ammoland.com)- With just 0.42 seconds separating the two, Dennis Doti edged out Chris Klassanos in the battle for the Stock Service Revolver title at the Smith & Wesson Live Free Or Die State IDPA Championship.
The SSR competition came down the 13th and final stage of the match. After 12 stages Wil Cournoyer led with 362.72, followed by Doti with 373.67 and Klassanos with 376.19. Cournoyer also held the lead over Doti in the Kind of New England series, setting up the final stage, the fourth King of New England stage at the Live Free Or Die, as the determining stage in both contests.
Presented by Apex Tactical Specialties, the King of New England series recognizes the top shooters competing in the Massachusetts State Championship, the New England Regional and the Live Free Or Die, with the title going to the competitor with the top cumulative score, in their division, from four pre-selected stages from each of the three championships.
Klassanos won stage 13 with 46.41 and 9 points down, picking up 2.1 seconds on Doti who finished with 48.51 (7), though not enough for Klassanos to overtake him. With both titles on the line, Cournoyer had a disastrous stage finishing with 82.34 and giving up 33.83 seconds to Doti, along with both titles.
"The Stock Service Revolver contest was the closest of the championship, and with both the match and the King of New England titles on the line on the final stage, it provided for the most dramatic finish of the weekend," said Ken Lambert, match director for the Smith & Wesson Live Free Or Die.
With the help of two stage wins, Doti won the SSR title with a final time of 422.18 seconds and 67 points down. Klassanos, who won five of the 13 stages, took second with 422.60 (143) followed by Cournoyer with three stage wins and a final time of 445.06 (75). Rounding out the top five were Chris DeForge who scored one stage win before finishing with 463.76 (100), and Greg Hayes with two stage wins and a time of 474.24 (114).
The sold out 2013 Smith & Wesson Live Free Or Die State IDPA Championship took place October 18-20 and was hosted by the Pioneer Sportsmen Club in Dunbarton, N.H.
The match was sponsored by a number of firearms industry leaders, including Apex Tactical Specialties, Comp-Tac Victory Gear, iMarksman, New England Tactical, RangeLog, Ruger, Safariland, SIG SAUER, Taurus and Smith & Wesson, the title sponsor of the match.
For more information on IDPA, or to join the more than 22,000 members competing each week all across America, visit www.IDPA.com.
You can further connect with the IDPA community through IDPA's social media, such as @OfficialIDPA on Twitter and ShootIDPA on Facebook, Instagram, Pinterest and Tumblr, or check for regular news and updates on the organization's DOWN ZERO Blog.