By: Lynette Carrington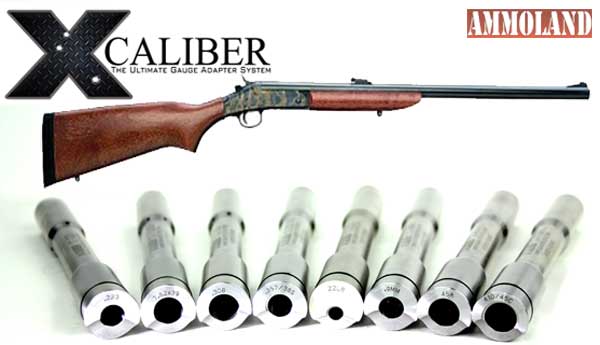 Scottsdale, AZ –-(Ammoland.com)- There are survivalists and then there are survivalists.
Air Force Vet Tim Ralston is an avid outdoorsman, an experienced and pro-thinking survivalist and a champion of being prepared in every way.
Add in the fact that he is always creating new and useful survival gear, Tim, along and his wife Marie have taken Gear Up and created a high-profile and well-respected business name that customers and fans rely on for the best equipment, innovative and useful products and sound advice.
"The Crovel" (a shovel/crowbar hybrid) is the one item that really "started it all" in terms of a solid representation of what Gear Up is all about. A few years ago, while looking for substantial products, Tim stumbled upon a World War II shovel and was impressed with how well it was made. He set out to create an indestructible shovel geared specifically to his clientele.
"I bought 30 full shovels and 30 crowbars and made them myself," Ralston explained. "Shortly after, we went to the gun show and sold out in 30 minutes."
A very diverse tool, The Crovel is nearly indestructible and can cut through anything. The item continues to be one of the most popular items from Gear Up.
It was just a matter of time before production television took note of the passion and business know-how of Ralston. The show "Doomsday Preppers" wanted to feature Ralston.
"National Geographic Channel called and wanted me to be on the show. I asked 'Can I bring my shovel?'" mused Ralston of his signature Crovel.
His segment on the show centered on firearms training. The episode was a hit.
"We became their number one rated show and it's still their most replayed episode." Ralston thinks his onscreen persona really resonates with an audience because he's different. "I think it's my ability to talk to other people and I don't look like your typical survivalist," he said. Ralston has also appeared on the cover of American Survival Guide Magazine.
The Xcaliber Survival Rifle is another very versatile weapon created by Ralston and billed as the ultimate rifle.
"It's my solution for survivalists, preppers and outdoorsmen," Ralston noted. He started off with a 12 gauge shotgun and ingeniously modified it. The single gun will now shoot .22, .38 and 9 mill. bullets…11 different caliber bullets in all can be shot from one gun. "I designed this for the worst case scenario."
The Adventure Pod Hammock is another outdoor product that will be in high demand as soon as it's introduced. Described as an "entire sleeping environment", it is a single point hammock that can be hoisted high into the air via hoisting mechanisms easily operated by one person. It keeps perfect balance and gives the extra safety of getting the sleeper off of the ground.
Each week is like Christmas at Gear Up. "Every Friday, I invent something," stated Ralston. Indeed, because of his ingenious creations, Gear Up is much more than a survivalist's store, it's an outlet of creative ingenuity. (Think of Ralston as James Bond and MacGyver and you get the idea.)
"Everything I invent has to be multi-purpose," said Ralston. "We're going to build everything here in America. It's important that we do that."
Recon 6 is the latest entry into the Gear Up gadget world and the demand for the watch has already been insane, even though the watch doesn't debut until November. The American-made watch is designed to give an outdoorsman or survivalist everything they need in a jam. The pivoting head splits in half and reveals a military grade liquid compass. It boasts an LED light that will shine out to 20 feet and even contains a one inch serrated knife that can process game or cut fish. Other features include a hollow tube that contains thermal rods-enough to start up to 10,000 fires.
"It tells time, it's very tactical looking and you can take the watch band off and there's a magnifying glass," Ralston explained. "It has everything." Pre-purchase orders are being taken now, just in time to Christmas.
Outdoor enthusiasts, hunters and survivalists can depend on Gear Up to offer unique and innovative ways to improve upon safety and offer innovative, quality and highly versatile tools and products. But for Ralston, Gear Up is more than a store or a collection of products, it's a passion.
"Every day, if I can come in and do what I love to do, it's not work," he said.
To learn more about the company, visit www.GearUpCenter.com or call 480-306-4945. The Gear Up retail store is located at 10953 N. Frank Lloyd Wright Blvd. in Scottsdale, Arizona.