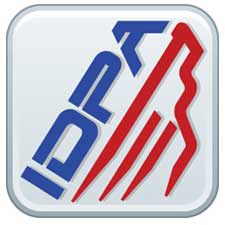 BERRYVILLE, Ark. –-(Ammoland.com)- One of New England's top wheelgunners, Gene Gelberger, took home his third major title with his Enhanced Service Revolver division win this past weekend at the Smith & Wesson Live Free Or Die State IDPA Championship, and in doing so claimed the added title of King of New England.
Gelberger, a Master level shooter within the division, captured the ESR title after winning eight of the 13 stages and posting a final time of 391.34 seconds with 131 points down. Earlier this season Gelberger won the ESR title at both the 17th Annual Massachusetts State Championship and the New England Regional, which were also sponsored by Smith & Wesson.
"Gene has gone three for three in New England's major matches this season. Whether as a competitor or working as staff, Gene's a fixture at area IDPA matches to the point that it wouldn't be a revolver competition without him there," said Ken Lambert, match director for the Smith & Wesson Live Free Or Die.
Finishing second just 5.32 seconds behind Gelberger was Bill Richards who placed second with five stage wins and a final time of 396.34 (191). Jerry Richard took third with 478.81 (110).
In addition to winning the Live Free Or Die ESR title, Gelberger's victory locked up his run on the Enhanced Service Revolver portion of the King of New England series. Presented by Apex Tactical Specialties, the King of New England recognizes the top shooters competing in the Massachusetts State Championship, the New England Regional and the Live Free Or Die.
The King of New England title goes to the competitor with the top cumulative score, in their division, made up from four pre-selected stages from each of the three championships. Gelberer finished the series with a final time of 420.61 seconds across the 12 stage course of fire.
The sold out 2013 Smith & Wesson Live Free Or Die State IDPA Championship took place October 18-20 and was hosted by the Pioneer Sportsmen Club in Dunbarton, N.H.
The match was sponsored by a number of firearms industry leaders, including Apex Tactical Specialties, Comp-Tac, iMarksman, New England Tactical, RangeLog, Ruger, Safariland, SIG SAUER, Taurus and Smith & Wesson, the title sponsor of the match.
For more information on IDPA, or to join the more than 22,000 members competing each week all across America, visit www.IDPA.com.
You can further connect with the IDPA community through IDPA's social media, such as @OfficialIDPA on Twitter and ShootIDPA on Facebook, Instagram, Pinterest and Tumblr, or check for regular news and updates on the organization's DOWN ZERO Blog.