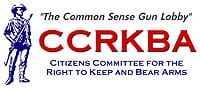 BELLEVUE, WA – -(Ammoland.com)- The Citizens Committee for the Right to Keep and Bear Arms today said gun ban groups and the Obama administration are engaged in "world-class hypocrisy" for criticizing gun rights organizations over "Guns Save Lives Day" – on the day after the first anniversary of the Sandy Hook tragedy – while planning their own lobbying effort and activities to exploit the event.
"When we launched 'Guns Save Lives Day' (GSLD) we were condemned for 'poor taste' by the same groups that are now reportedly planning a November lobbying effort, and media events coinciding with the Sandy Hook anniversary," noted CCRKBA Chairman Alan Gottlieb. "According to Politico, the leading gun prohibition groups are coordinating with the Obama administration to fully exploit the Newtown anniversary to further their own political agenda, exactly as we predicted when we announced the GSLD project.

"Our effort calls attention to the importance of firearms for personal protection and neighborhood safety," he continued. "We're emphasizing the need to protect a fundamental civil right, while the gun ban lobby is capitalizing on a horrible tragedy to destroy that right, and they know it."
Politico reported Monday that weekly sessions on gun control have been held between the White House Office of Public Engagement and representatives from Michael Bloomberg's Mayors Against Illegal Guns, the Brady Campaign to Prevent Gun Violence, Moms Demand Action, the Center for American Progress, Organizing for Action and Americans for Responsible Solutions.
According to Politico, "Officials from the White House Office of Public Engagement, which reports to senior Obama aide Valerie Jarrett, are now carrying the administration's gun control efforts. OPE officials hold a regular meeting with the major gun control groups known as the Gun Violence Table. The weekly sessions often include OPE Director Paulette Aniskoff or official Paul Monteiro."

"For those lobbying groups to condemn gun rights organizations is at best disingenuous, if not downright despicable," Gottlieb stated. "They have known for weeks, perhaps months, that they were going to exploit this solemn anniversary, and it is clear now they do not want a different message competing with their efforts to erode our civil rights.

"Not only are they trying to destroy the Second Amendment," he concluded, "it is now abundantly clear they want to impair our First Amendment right to talk about it."
With more than 650,000 members and supporters nationwide, the Citizens Committee for the Right to Keep and Bear Arms is one of the nation's premier gun rights organizations. As a non-profit organization, the Citizens Committee is dedicated to preserving firearms freedoms through active lobbying of elected officials and facilitating grass-roots organization of gun rights activists in local communities throughout the United States. The Citizens Committee can be reached by phone at (425) 454-4911, on the Internet at www.ccrkba.org or by email to [email protected]