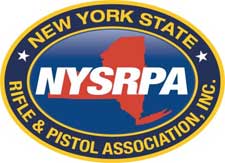 New York –-(Ammoland.com)- ILION, N.Y. (WKTV) – The hot topic of gun control in New York State was an issue Thursday evening.
The President of the New York State Rifle and Pistol Association came out to speak with members of the Herkimer County Republican Committee.
The event took place during the committee's annual fall dinner at Francesca's in Ilion.
The keynote speaker was Tom King. He said the gun control law is not going to solve the state's crime issue.
"Legal and lawful gun owners are not the problem on the streets of this country. It's the criminals and obviously the criminal element is a big problem and it's hard to control," said King.
King also said the republican party needs to expand its base reaching out to younger members.
About:
The New York State Rifle & Pistol Association is the state's largest and oldest firearms advocacy organization. Since 1871, our organization has been dedicated to the preservation of Second Amendment rights, firearm safety, education and training, and the shooting sports. Our membership consists of individuals and clubs throughout the state. We are a not-for-profit 501(c)4 organization and the official NRA-affiliated State Association in New York. Visit: www.nysrpa.org