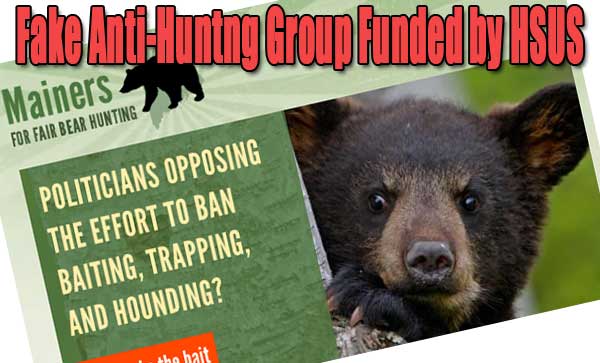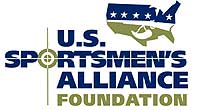 Columbus, OH –-(Ammoland.com)- After failing to get legislation passed in Maine this spring, anti-hunting forces have begun work on a ballot initiative that would ban bear hunting over bait, with dogs and bear trapping.
If they collect enough signatures, the question will appear on the November 2014 ballot.
A disclaimer on their website's homepage reads, "paid for with regulated funds by the committee of Mainers for Fair Bear Hunting, PO Box 15367, Portland ME."   An examination of the campaign finance report filed by the group tells a different, and much more accurate, story.
The group's campaign finance filings show that 99% of the of funds have come from the Washington D.C.-based, Humane Society of the United States (HSUS), and its lobbying arm, the Humane Society Legislative Fund.  The so called 'Mainers for Fair Bear Hunting' has reported raising nearly $85,000 in its quest to strip rights from Maine's sportsmen and women.  But only $881 has been contributed from anyone other than HSUS, the world's largest animal rights organization.
"Given their campaign finance report, I would think it would be much more honest if their website stated, "Paid for by the national animal rights lobby, Washington DC.."  said David Trahan, Executive Director of the Sportsmen's Alliance of Maine.

"Actual Mainers won't be fooled, however.  They understand the real anti-hunting agenda of HSUS and its allies.  Mainers don't oppose hunting, and they want to make their own decisions free from 'heavy-handed' lobbying campaigns from Washington DC."
Joining HSUS in their anti-hunting coalition are names that will be quite familiar to sportsmen, including: Born Free USA, In Defense of Animals, American Society for the Prevention of Cruelty to Animals (ASPCA), Wildlife Alliance of Maine, Maine Friends of Animals, Humane Society Legislative Fund, Coastal Humane Society, Animal Refuge League, International Fund for Animal Welfare and more.
"This is the typical game plan of the anti-hunting lobby," said Evan Heusinkveld.  "They ride into town and spend millions of dollars to force their anti-hunting agenda on local citizens.  Calling themselves 'Mainers' is nothing more than a transparent marketing ploy."
The funding disparity between real Maine residents and outsiders is reminiscent of the last time HSUS tried to ban bear hunting in Maine in 2004.  In that campaign, national animal rights groups bankrolled nearly 85% of the attack on Maine hunters.
About:The U.S. Sportsmen's Alliance is a national association of sportsmen and sportsmen's organizations that protects the rights of hunters, anglers and trappers in the courts, legislatures, at the ballot, in Congress and through public education programs. Visit www.ussportsmen.org.