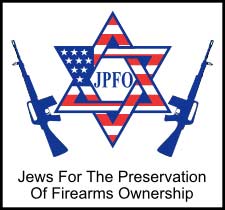 Washington, DC –-(Ammoland.com)- With the Bill of Rights under constant and increasing threat, it seems worth reminding people about what is usually considered the crucial guarantor — the Second Amendment.
Thanks are due to Oleg Volk for the image used which nicely brings the message home.
Full details and larger picture size options can be found on our 'Freebies' page of posters. Click here to see more. https://jpfo.org/filegen-a-m/freebies.htm#latest
About:
Jews For The Preservation Of Firearms Ownership Mission is to destroy "gun control" and to encourage Americans to understand and defend all of the Bill of Rights for everyone. Those are the twin goals of Wisconsin-based Jews for the Preservation of Firearms Ownership (JPFO). Founded by Jews and initially aimed at educating the Jewish community about the historical evils that Jews have suffered when they have been disarmed, JPFO has always welcomed persons of all religious beliefs who share a common goal of opposing and reversing victim disarmament policies while advancing liberty for all.
JPFO is a non-profit tax-exempt educational civil rights organization, not a lobby. JPFO's products and programs reach out to as many segments of the American people as possible, using bold tactics without compromise on fundamental principles. Visit www.JPFO.org – Copyright JPFO 2011