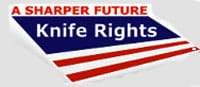 Gilbert, AZ –-(Ammoland.com)- Knife Rights has asked the Court for permission to amend its complaint to add details the Court said should have been included when it dismissed Knife Rights' Federal civil rights lawsuit against New York City and District Attorney Cyrus Vance, Jr. last week.
The outrageous decision by U.S. District Court Judge Katherine B. Forrest found that persons arrested or threatened with arrest in NYC do not have standing to sue, in part because details about certain knives were not included in the complaint. Yet the Court failed to allow Knife Rights to add those details – a standard practice in litigation. Knife Rights has now formally moved for reconsideration of the decision, and for leave to amend the complaint

Leave to amend is supposed to be freely granted according to well-established legal principles. While we do not believe that the original complaint was defective in any way, we believe it was erroneous for the Court not to allow us an opportunity to amend the complaint to address the Court's findings. If the motion for reconsideration is granted, the lawsuit would be able to continue forward without having to appeal to a higher court.
Knife Rights Chairman Doug Ritter said, "In her original ruling this recently appointed judge said that the plaintiffs in our case do not have standing to sue, in part because the case documents don't identify specific knives that would be illegal under New York City's interpretation of state law. The trouble is, it's nearly impossible to identify them under New York City's haphazard and inconsistent approach – which is the whole point of the case in the first place! Even the DA has admitted that different specimens of the exact same make and model knife could be simultaneously found to be both legal and illegal!"

"While certainly a setback, standing issues are a typical obstacle in federal civil rights cases against governments. It will not deter us from continuing the lawsuit, "Ritter said.
A tax deductible donation to support this lawsuit can be made to the Knife Rights Foundation at: http://bit.ly/Scvp9
Download the Motion for Reconsideration and Memorandum of Law in Support of Plaintiffs' Motion for Reconsideration:  http://www.KnifeRights.org/Motion_for_Reconsideration.pdf
ABOUT KNIFE RIGHTS
Knife Rights (www.KnifeRights.org) is America's grass roots knife owners organization, aggressively fighting for a Sharper Future™ for all knife owners. Knife Rights is dedicated to providing knife owners an effective voice to influence public policy. In the past four years, Knife Rights has passed pro-knife legislation in 11 states and prevented anti-knife legislation in four states. Knife Rights is also the lead plaintiff in a federal civil rights lawsuit against New York City.
For more information contact:
Doug Ritter
602-292-0997
[email protected]